A short time ago I had the pleasure of reviewing a pumpkin pasta sauce.  I love all things pumpkin and this sauce is no different! Since my first taste, I have been dreaming up new ways to use this pasta and my latest creation is paired with shrimp.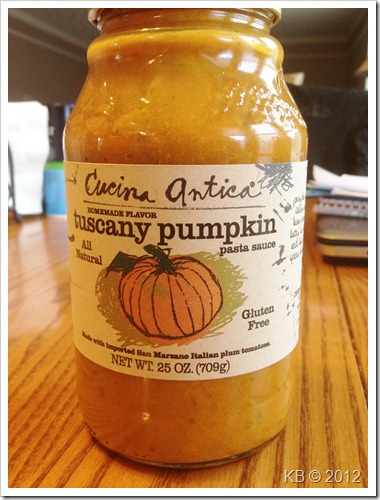 Pumpkin Shrimp Pasta*
2 oz Tinkyada spinach fettuccine
1/2 cup Cucina-Antica Tuscany Pumpkin pasta sauce
8-10 shrimp
Sea salt & pepper
1/2 to 1 TBSP extra-virgin olive oil
1.  Boil water for the pasta.  Cook and drain pasta and set aside. 
2.  Heat pasta sauce in a pan on the stove.
3.  Heat oil to cook shrimp in a saute pan.  Cook shrimp until cooked through and then toss with sauce and cooked pasta. 
4.  Enjoy!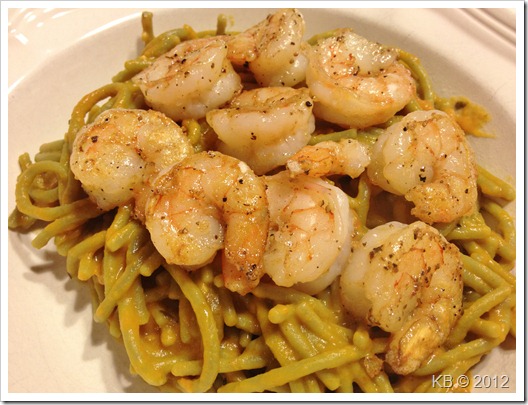 *Since I was the only one eating this specific night, the measurements above are for 1 serving.  The dish can easily be made for as many you would like. 
I was extremely pleased with the flavor combination in this dish.  The creaminess of the pumpkin sauce was the perfect compliment to the pasta and shrimp. 
The Cucina-Antica Tuscany Pumpkin sauce can be purchased right on the Cucina-Antica website or in select stores. 
*The product reviewed in this blog post was sent to me free of charge for review purposes.  The thoughts and opinions shared here are mine and have not been influenced by anyone or anything.