I love chocolate.  If I were to be stranded on a remote island, as long as I had chocolate, red wine and water, I could survive.  When I was asked if I would be interested in reviewing some mixes from Kitch + Table, and brownies were included as one of the two mixes, I may have done a little happy dance!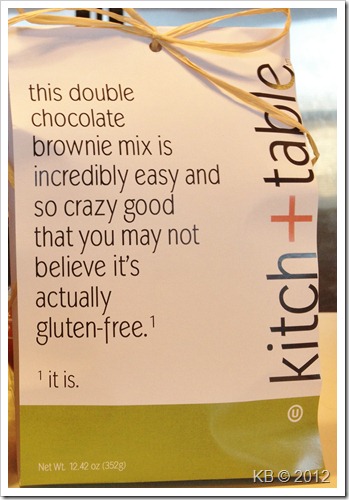 More about kitch+table":
(source)
The double chocolate brownie mix is just as easy to make as it claims on the front of the package.  I simply mixed 2 eggs and a half cup of melted butter together, stirred in the brownie mix and popped into my oven for 30-35 minutes.  The brownies cooked up evenly.  I allowed them to cool and then sliced for serving at my friend's housewarming party.  They were a hit!  The plate full of brownies was devoured and only 2 were left when I last checked before I headed home.  The brownies were moist and fudgy, just the way I like them!  My friend, Melissa, topped hers with a dab of cream cheese dip and sliced of strawberry!  Divine!  My non-gluten-free and picky child also gave her stamp of approval = asking for seconds. 
(source)
The ingredients: Sugar, Gluten-Free Flour Blend (white rice flour, non-GMO cornstarch, potato starch, brown rice flour, tapioca starch), Dutch Processed Cocoa Powder, Leavening (sodium bicarbonate, sodium acid pyrophosphate, monocalcium phosphate), Salt, Natural Flavors, Xanthan Gum.
The kitch+table mixes can be purchased right from the kitch+table website.  The brownie mix is $5.99 and one of the best ones I have tried!  Definitely add this one to your list of "don't miss" gluten-free products!  I still have to make and sample the pizza crust, and I can assure you that will be happening sooner than later after I tried the brownies!
*This mix was sent to me free of charge for review purposes.  The thoughts and opinions shared here are mine and have not been influenced by anyone or anything.