This past weekend was absolutely gorgeous!  Temperatures across central Ohio were in the high 60's and low 70's.  It doesn't get much better than that in mid-November in Ohio.  Unfortunately I believe this will be the end of the nice, warm weather and we should prepare to hunker down and prepare for winter.  BRR!  The high today is 55 and low is 26 – 70% chance of rain.  Hello, cold!
I have been working through some leftovers in my refrigerator that need to be put to use in the next few meals.  Wait until you hear about some of these creations I have up my sleeve!  Dinner last night was a toasted French roll from Trader Joe's with melted smoked gouda, drizzled with Nakano Balsamic Blend Vinegar and topped with chopped basil.  It was AMAZING!  I need to make sure to buy this cheese again!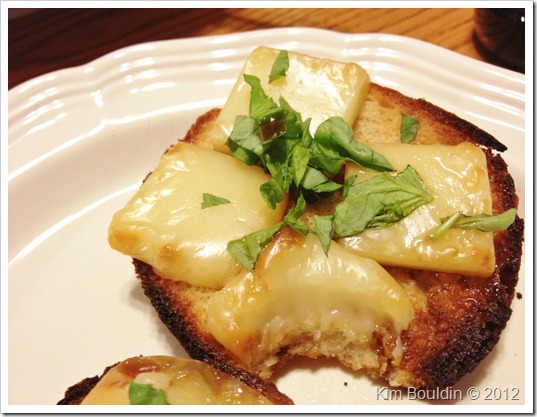 I believe that dinner tonight will knock the socks right off of anyone who likes Buffalo Chicken Dip.
Monday – Buffalo Chicken Dip grilled cheese sandwich and salad
Tuesday – Easy Enchilada Bake, corn and salad
Wednesday – Leftovers
Thursday – Take-out
Friday – Make your own pizza with a new crust mix and salad
Saturday – Italian grilled chicken, sweet potato puffs, zucchini and salad
*For more gluten-free weekly meal ideas, make sure to visit Musingsofahousewife.com.
---
Week in Review
Recipe: Mozzarella Caprese Bites
Review: MI-DEL Gingerbread Men
A list of Hurricane Relief efforts going on – check to see what you can do to help!
Do you like nut butter?  Check out The Healthy Apple's post on "10 Ways with Nut Butter" – Brilliant ideas!
Have a great week!