What a week!  The past five days sure were a whirlwind, but it was great to spend some of that time with family.  Wednesday was busy preparing for the big day.  The big day started with a traditional 4 mile race and then the big meal.  Friday = Black Friday.  We left the house at 4:20 AM and returned almost 12 hours later.  Phew.  I need a vacation from my weekend!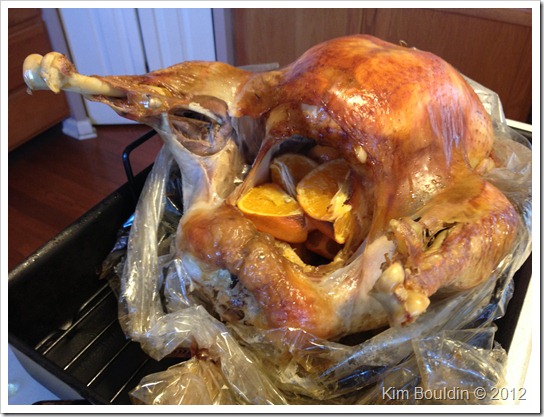 Turkey Tip:  Consider stuffing your turkey with cut oranges to keep the meat tender and moist. 
I had an unfortunate run-in with gluten at a restaurant on Friday at lunch time.  Not only was I almost immediately quite sick, but it has taken the better part of the weekend to feel like myself.  Not only is getting sick from gluten frustrating, but I am sad because I thought I could trust this particular restaurant.  My step dad, Joe, and I shared a meal and he didn't get sick, so I have no doubt that it was gluten that made me so sick.  There is always a risk when eating out on the gluten-free diet and I am fortunate that I don't often have issues like the one I experienced on Friday.  Even more reason to re-evaluate my list of safe gluten-free establishments.
---
Menu
Monday – Spaghetti (brown rice pasta from Tinkyada) with Italian sausage marinara and salad
Tuesday – Tacos with soft corn tortillas, black beans, corn and salad
Wednesday – Burgers with sweet potato puffs and salad
Thursday – Italian grilled chicken, coconut baked brown rice, broccoli and salad
Friday – Make your own pizza and salad
Saturday – Take-out or breakfast for dinner and fruit salad
---
Week in Review
Don't forget to enter to win the Sara Lee Giveaway!
Review: Gillian's Home-Style Stuffing
Have a great week!!