Every other Tuesday some friends and I get together for a Body Pump class at a local studio.  The class is taught by a good friend, so that makes it even more fun!  After class is over, we head next door for a quick drink and some catching up.  I probably should clarify that this class is at night, not bright and early in the morning.  Last time we did this class, I noticed the pizza place next door offered gluten-free pizza, so I made it a point this time to go in and talk to the owner. 
I was really hungry, but after a gluten incident on Black Friday at a restaurant I once trusted, I was a little hesitant to order a gluten-free pizza from a place that makes regular pizza – until I talked to the owner.  I have never been so impressed as I was after hearing the process to avoid cross-contamination. 
The gluten-free pizza crust comes from a local gluten-free bakery, Holiday Bakery.  The owner, Lisa, didn't agree to sell Yohan Pizza the crust until she came to check out their kitchen and instruct the staff on how to safely prepare the gluten-free pizzas.  Other restaurants should take note!  I was further impressed when the owner went on to explain how they kept separate sauce, ladles, pans and pizza wheels to cut the pizza. 
I placed my order for a gluten-free cheese pizza with ham, pineapple and tomato.  The pizza is 12" and is the same cost as the large regular pizza = $12.95 plus toppings.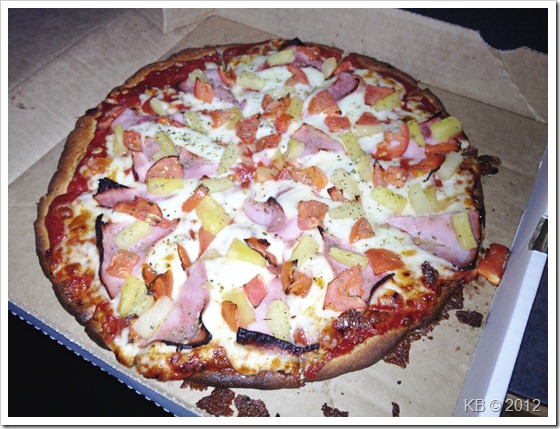 My pizza was ready 15 minutes later and I took it next door to the bar.  Not the best picture – it was dark in the bar – but you get the idea.  I found out that I can order the pizza from the bar in the future and they have a window to pass it through!  Now that I am aware of the practices in place to keep the pizza safe from cross-contamination, I feel comfortable doing so. 
There was no way I was going to eat this whole pizza by myself, so I shared with three of my friends.  Only one of those friends eats gluten-free, the other two don't have to.  The pizza was a hit with everyone!  The crust had just the right combination of crispy and chewy and the toppings were fresh and flavorful!  Best part?  My stomach was happy! I will definitely be ordering from Yohan Pizza again! 
Thank you Yohan Pizza and Holiday Bakery for making safe, gluten-free food for us to enjoy!