Breakfast is the most important meal of the day.  How often have you heard that?  Probably thousands of times, right?  Well, that's because it is true!  Our bodies need fuel shortly after rising to "break the fast" that occurs while we sleep.  Choosing foods that are well-balanced will ensure that you will have the energy to get your day off to a great start and make it until morning snack or lunch time. 
I am always on the lookout for something that will give me the most bang for my "nutritional buck".  When I received an email asking if I wanted to try Vigilant Eat's Organic Superfood Oat-Based Cereal my interest was piqued.  Upon further review of the website, I knew this is a product that would meet the requirements of a well-balanced, energy-filled breakfast.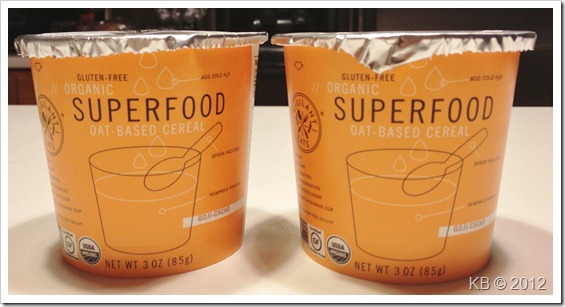 The cereal comes in a compact bowl with everything you need to have breakfast at home or on-the-go inside.  You could take this anywhere!  Simply open, remove the spoon, add cold water and enjoy!  No more excuses for not having a healthy, gluten-free breakfast!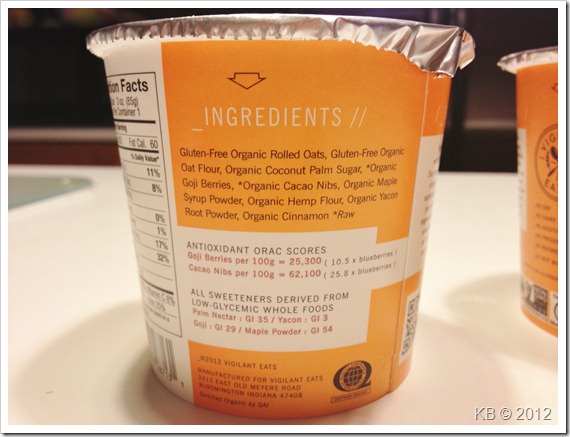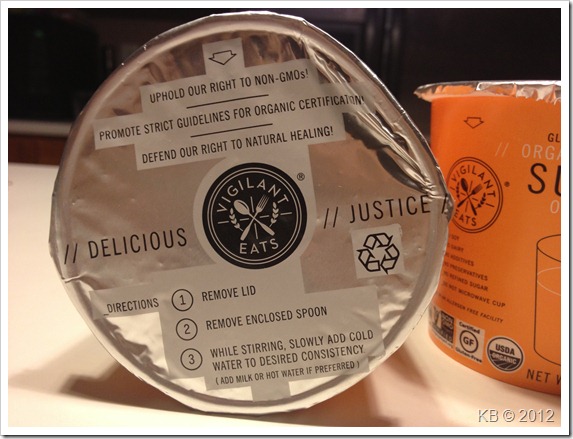 The cereal is certified gluten-free, organic and kosher and is free of dairy, soy, additives, preservatives and refined sugar.  The big question is, how does it taste?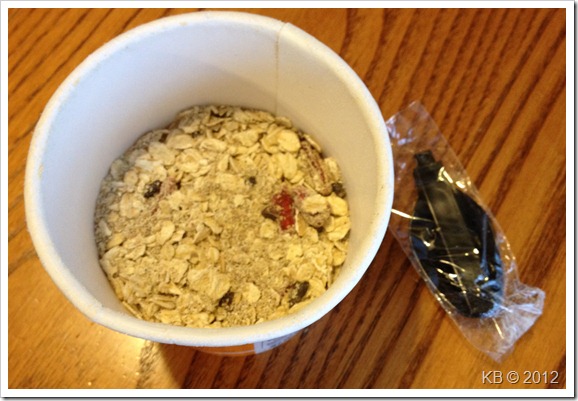 Before I added the water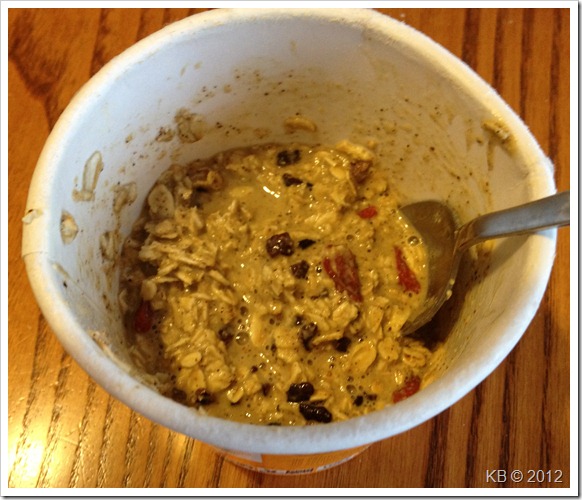 After I added the water.  It isn't pretty, but what did your parents and teachers always say when you were a kid?  Don't judge a book by its cover!  The cereal is marvelous!  I wasn't expecting to fall in love with it – but it is too late for that!  I am thankful I have another bowl to enjoy after my long run tomorrow!  The ingredients really compliment each other nicely and there is no shortage of goji berries or cacao nibs (my favorite)!
The nutritional stats of this cereal are impressive:
Calories – 300
Fat – 7g
Fiber – 8g
Protein – 11g
Iron – 25% <—very important for me right now (my iron stores are on the low end of normal and my sports doc would like to see them higher)
The Superfood Cereal is available in select stores across the US or online.  While the cereal is not cheap, try to remember the quality of the ingredients and the importance of your health.  If you sign up for the email newsletter on the Vigilant Eats Facebook Page, they will email you a 15% discount to use on your order.  There are also discounts available for ordering multiple boxes and referring a friend.  Shipping is always free in the continental US.
What is your go-to breakfast?  I admit that I have fallen into a rut and I need to focus on better nutritional quality and less refined sugar, so I am thrilled to have found this new cereal! 
*Samples were sent to me free of charge for review purposes.  The thoughts and opinions shared here are mine and have not been influenced by anyone or anything.