Good morning!  We are still here this morning, so the world must not be ending and it is time to get moving to complete all of those holiday tasks left undone.  I don't know about you, but I will be needing all kinds of coffee to help power me through the next few days.  Barista Prima Coffeehouse Italian Roast is my coffee of choice this holiday season.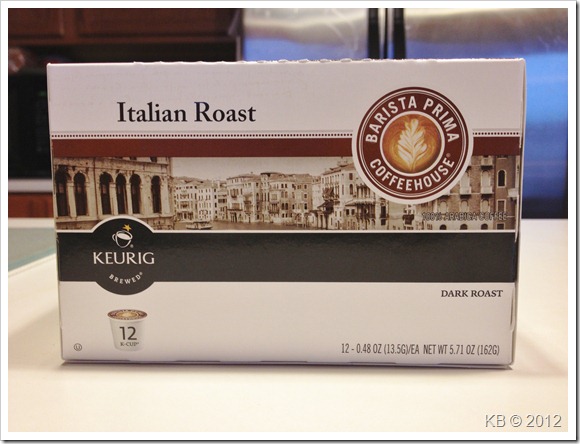 Barista Prima Coffeehouse coffee, the deep dark brew for the passionate coffee lover, recommends the following coffee intake levels to get you through the hectic holiday season!

Keep that holiday cheer going strong = 1 cup of coffee each morning
String the lights on the tree = 1 cup of coffee
Figure out what to get your Secret Santa = 1.5 cup of coffee
Power through the afternoon slump to make it to your office Christmas party = 2 cups of coffee
Brave the crowds at the shopping mall = 3 cups of coffee

*Note, no scientific evidence supports this data.

Barista Prima Coffeehouse® K-Cup® packs are an exclusive collection of the world's finest Arabica coffees, roasted in the tradition of Europe's most celebrated coffee houses. Designed for the passionate coffee lover, the Barista Prima Coffeehouse darker, richer blends feature:

Bold and complex flavors
One of the deepest, darkest to come from the Keurig coffee brewer

Available in four delicious varieties:

Colombia           
House Blend
Italian Roast
French Roast
After being on a flavored coffee kick for the past few months, it was nice to take a break from that to enjoy this smooth, dark, rich coffee experience.
This robust, heavy-bodied cup with its ripe fruit and berry notes epitomizes the time-honored Italian tradition of dark-roasted coffee house brews.
I can't wait to try the three other varieties of Barista Prima Coffeehouse coffee.  Barista Prima Coffeehouse K-Cups can be found in retail and grocery stores nationwide and also online.
How will you power through the next couple of weeks? 
*The product reviewed in this blog post was sent to me free of charge for review purposes.  The thoughts and opinions shared here are mine and have not been influenced by anyone or anything.
---
Don't forget to enter to win one of 10 Zinio digital magazine subscriptions!