Merry Christmas Eve!  Wow, Christmas sure is sneaking up on us, huh?  I can't believe I am going to say this, but I think I am ready!  WHAT?!  I wrapped all of the gifts yesterday and today I just need to focus on baking some cookies and dessert and making Catholic Potatoes to take to our Christmas Eve celebration at my in-laws house.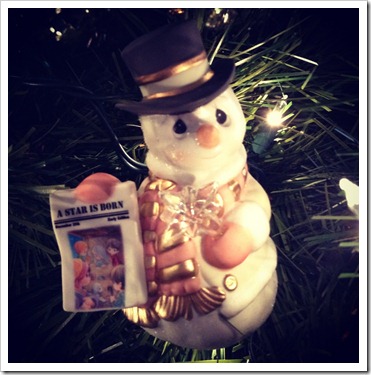 This ornament is from my Grandmother.  She gives all of the women in the family a new Precious Moments ornament each Christmas and this is the one she sent this year. 
---
Monday aka Christmas Eve – Dinner at in-laws – will include Catholic Potatoes
Tuesday aka Christmas – Dinner at Dad's house – Turkey dinner with all of the fixings
Wednesday – Tacos, black beans, corn and salad
Thursday – Spaghetti with marinara and salad
Friday – Make your own pizza and salad
Saturday – Breakfast for dinner and fruit salad
---
Week in Review
Don't forget to enter to win one of 10 Zinio digital magazine subscriptions!  Only one more day!!
Gluten Freely Store Closing Sale
New Planet Beer Enters Kentucky and Ohio
Review: KIND Nuts & Spices Bar
Have a great Holiday!!