'Tis the season to freeze our tails off while running in what feels like the frozen tundra!  BRR!  If you were cold outside last week while you were running, you will really be cold this week!  The temps are dipping into the single digits at night, making those early morning runs super cold.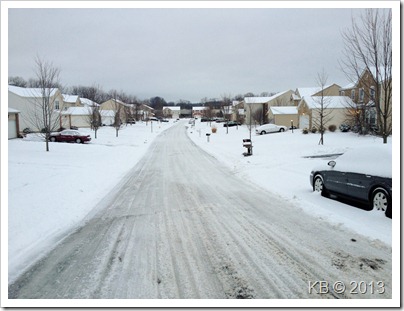 Over the past few years I have discovered the cold weather items that work best for me and continue to find new tricks.  In addition to using Hot Hands for my gloves, I tried using the foot version for my toes last year and they worked great!  It is important to note that I put these on top of my toes, not underneath. 
I have made another new, albeit expensive, solution to keeping my lower half warm while running – the Lululemon Toasty Tech Tight.  In addition to keep me plenty warm, these are some of the longest tights!  I am 5'7" tall and look how long they are: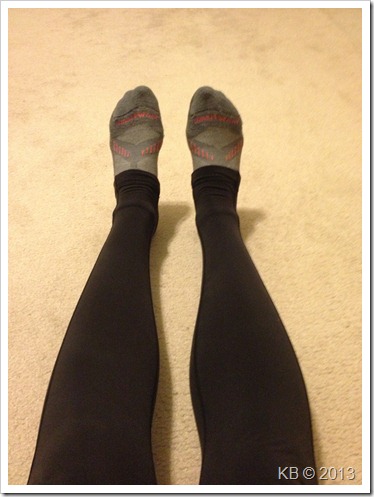 Lots of cool designs and pockets: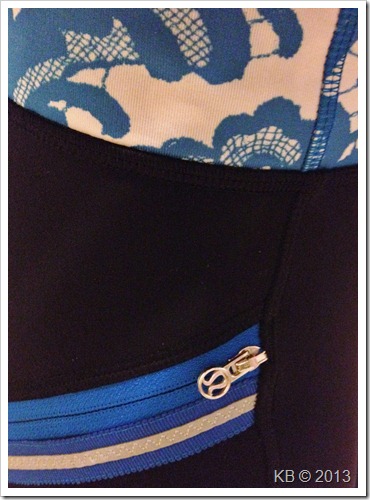 More about the tights:
why we made this

When we're toughing it out on our brisk morning runs, we want to be warm and cozy. Brushed on the inside, these Tech Fleece fabric tights have a soft flannel-like feel to help keep our legs toasty. Quick-access pockets hold our gels close so we don't need to fish for our fuel.

key features

brushed inside for a fluffy-soft touch
high-stretch Tech Fleece fabric moves with you
four easy-access pockets to store keys, gels and cash
reflective detailing helps keep early birds bright
high-rise for extra warmth and coverage

tech specs

designed for: run
fabric(s): Tech Fleece
properties: moisture-wicking, preshrunk, chafe-resistant, four-way stretch, reflective
rise: high
leg fit: tight
inseam: 30"
hem sweep: 8"

(source)
When I first tried these on in the store I was concerned about the high waist.  Typically the tights I wear are low rise and these came up just to my belly button.  After speaking with a sales associate that shared my concerns about the pants, I was convinced to give them a try.  She said that the higher waist not only helps keep you warm, but the pants stay put and don't sag.  That sales associate was exactly right!  Not only were these pants very toasty, but they stayed put!  No hiking up my pants mid-run!  I love these tights so much that I really would love to get a second pair! 
While we are on the topic of winter running, make sure to stay hydrated when you head out.  Even though you don't feel like you are sweating, you still sweat and need to replace what you lose.  Water tends to freeze in hand-held water bottles, so consider switching things up with an electrolyte sports drink like Gatorade (all gluten-free). 
What do you do to stay warm when you exercise outside in the winter?