Last week I shared one of my recent favorite dinner salads – Simple Steak Salad.  This week I want to share another simple salad using a store-bought rotisserie chicken.  Eating healthy doesn't have to be time consuming or complicated.  By using a store-bought rotisserie chicken (remember to check the gluten-free status), the time it takes to prepare this meal is less than 15 minutes.  Of course if you want to cut down on processed foods and prepare your own chicken, roast it on Sunday and then you can use it for several meals during the week.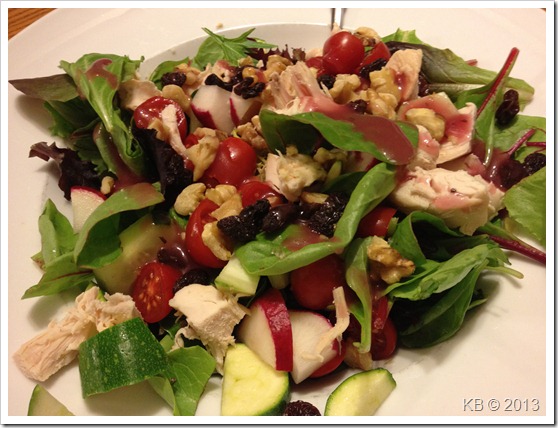 Once the chicken is prepared or purchased, the rest of the preparation is simple.  Some people choose to cut all of their veggies up at one time for the entire week.  I like to cut them up as I use them.  To each his own. 
Chicken, Walnut & Raisin Salad with Pomegranate Dressing
After I enjoyed my very large dinner salad I thought of a couple ingredients that I might add the next time I make this – avocado and/or goat cheese.  The best thing about dinner salads like this is playing around with the ingredients to find the combination you fall in love with. 
What is your favorite dinner salad combination?