Hydration is very important for our bodies to function properly.  I can't stress enough how important it is to have water available for each and every workout, not just high intensity activities like running, spinning and hot yoga.  Walking, weight lifting, strength training, etc – water is necessary to replace fluids lost.  Sometimes water isn't enough for me.  I need electrolytes in addition to the just water and I will use Gatorade for this purpose.  I am not the only one preaching about hydration, check out the information below from mountaineer Melissa Arnot:
This past May, mountaineer Melissa Arnot completed her fourth summit of Mount Everest – more than any other woman in history, at the young age of 29.  If that wasn't enough, she also summited Mount Rainier 91 times. She's an inspiration to so many, and knows first-hand the importance of hydration for safety. "No matter if you are climbing Everest or just training to climb the stairs, hydration is one of the single most important tools for success," said Arnot.

Below are a few helpful tips from Melissa for staying healthy and hydrated:

· Hydration for safety: "When you are under exertion, your body is using fluid from anywhere it can get it, which puts stress on your other body systems. You are losing body moisture through sweat and respiration, so hydration is a key element of safety."

· Follow the liter rule: "I always start any day of activity with a liter of water prior to my exertion. After my activities start, I keep hydrated by drinking a half-liter every hour."

· Avex water bottles: "The Avex AUTOSPOUT lid has a press-to-release button that quickly opens the drinking spout, offering me the ability to quickly rehydrate without the risk of losing the lid to my bottle. Often, hydration hoses just won't work since they tend to freeze in colder temperatures. The Avex bottle allows me to rapidly re-hydrate and I notice that I am able to drink even more then I used to with a traditional bottle. Being hydrated is critical to safety and success. No matter where I am traveling I am never without water, since I know it can literally save my life at very high altitude."
Have you seen or hear about the Avex water bottles?  I hadn't until I received one to try out.  I am very impatient when it comes to running and workout gear.  I like things to be easy and if I have to take a bunch of pieces of a water bottle apart to wash, it will most likely end up sitting around and not getting used.  One of the features of this Glacier Autoseal water bottle that caught my eye from the get-go was it being dishwasher safe (top rack).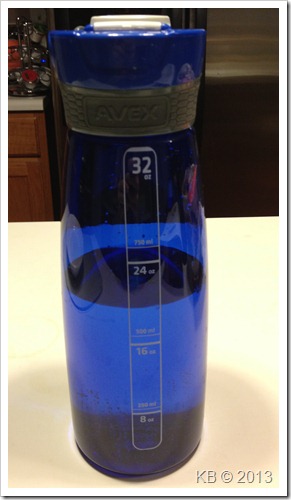 32 ounces is perfect!  I easily drink 2-3 of these per day.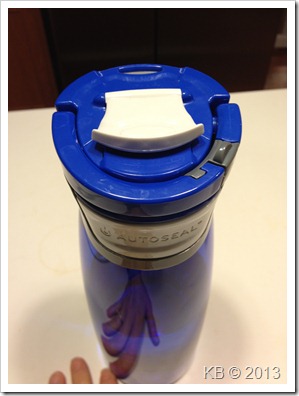 The top has "autoseal" so there is no leaking or spilling.  I will throw a water bottle away if it leaks, so I was very interested to see how this worked.  The white part flips back to open the bottle, but no water comes out until you press the "autoseal" button.  Want to know what is even better?  You can do it all with one hand, making it perfect for fast-moving fitness classes like Body Pump or heated power yoga.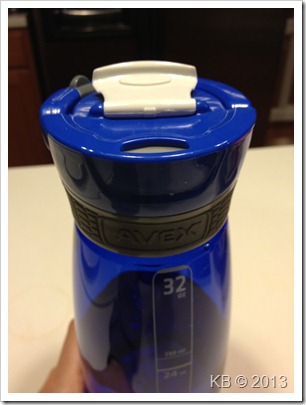 The true test was putting the bottle in my workout bag and transporting it to class that way.  Guess what?  No spills or leaks!  I am amazed and very pleased!  I love how easy this bottle is to use and clean! 
Avex water bottles can be purchased on many websites, though I haven't checked locally to see if I can find them in stores.  It seems they come in more than just the 32 ounce size.  They also have travel mugs, which would be great for coffee!  Click here to see where to find them close to you.
Do you have a favorite water bottle to use while working out?
*This product was sent to me free of charge for review purposes.  All opinions shared here are mine and have not been influenced by anyone or anything.