If there is a gluten-free donut out there that Jon hasn't tried, I would be shocked.  As soon as we found out that Katz Gluten Free was making Glazed Donuts, I placed an order so that Jon could see how they stacked up to what he remembers glazed donuts to be.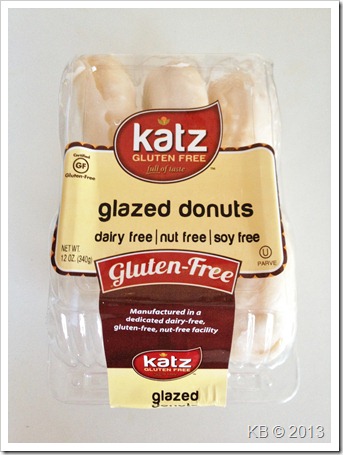 The donuts arrived frozen-ish, so I left them out on the counter knowing they wouldn't have time to go bad.  (Katz recommends keeping them frozen until ready to eat.)  Jon made fast work of this 6-pack and the other one that came a few days after it.  His first bite and mumblings included, "..chomp…chomp…best…chomp…donut I have ever had!" 
Ingredients:
Gluten Free Flour (White Rice, Corn Starch, Tapioca), Water, Sugar, Eggs, Canola Oil, Baking Powder, Xanthan Gum, Salt, Confectionery sugar, Granulated Sugar, Vanilla, Donut Glaze (Confectionery Sugar, Granulated Sugar, Water, Palm Oil, Salt, Vanilla, Agar, Locust Bean Gum).
The donuts are free of dairy, soy and nuts in addition to being gluten-free.  They are $6.99 per package of 6 donuts.  Katz Gluten-Free offers free shipping on orders over $50, so consider stocking up on donuts or trying some of the other tasty products that Katz makes, including a brand new Chocolate Cake Mix!
Do you have a favorite gluten-free donut?  Have you tried the Katz Gluten Free Glazed Donuts?
---
Don't forget to enter to win a tool kit to help find Rudi's Gluten-Free "Soft & Fluffy"!