Welcome to the last week of January!  Can't believe that this weekend marks the beginning of February!  I am just ready for the weather to warm up and stay that way.  Just in the 50s or 60s, no humidity.  I am not picky or anything.
Katz Gluten Free has been adding all kinds of new products to their line-up that I am having a hard time keeping track.  Just last week I learned they introduced a Chocolate Cake mix and the next day I see they have also added Carrot Muffins and Cinnamon Raisin English Muffins.  Holy new products, Batman!  I think I need to be placing an order this week to try some of these products out!  I have fallen in love with the plain English Muffin, so I am sure the Cinnamon Raisin is equally as tasty, if not better.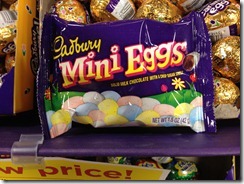 Take a look at what I saw in the grocery store a couple weeks back!  Easter candy!  I am not going to argue, because I love Cadbury Mini Eggs, but it wasn't even mid-January when I spotted these puppies!
---
Sunday – Pei Wei
Monday – Turkey Tacos, black beans, corn and salad
Tuesday – Breakfast for dinner and fruit salad
Wednesday – Italian grilled chicken, brown rice pasta Alfredo and salad
Thursday – Burgers, sweet potato puffs and salad
Friday – Donato's Sonoma Flatbread GF Pizza and salas
Saturday – Leftovers
For more gluten-free menu ideas visit Jo-Lynne Shane's Musings of a Housewife
---
Week in Review:
Ends today: Rudi's Gluten-free Help Find "Soft & Fluffy" Tool Kit giveaway
Enter to win a soup starts kit from Pacific Naturals
Review: Van's Whole Grain Snack Bars
Review: Trader Joe's Iced Lemon Rounds
Have a great week!