Eating gluten-free can be expensive.  Notice I said "can be", but it doesn't have to be.  Nicole Hunn, author of Gluten-Free on a Shoestring, tackles gluten-free cooking and baking without breaking the bank in her first book, Gluten-Free on a Shoestring.  The latest installment, Gluten-Free on a Shoestring Quick & Easy, shows us how to do the same, but quickly and easily.  We are all busy, but that is no excuse to spend a fortune on gluten-free pre-packaged food and baked goods or get take-out on a regular basis.  Check out how many recipes I marked to make in this book!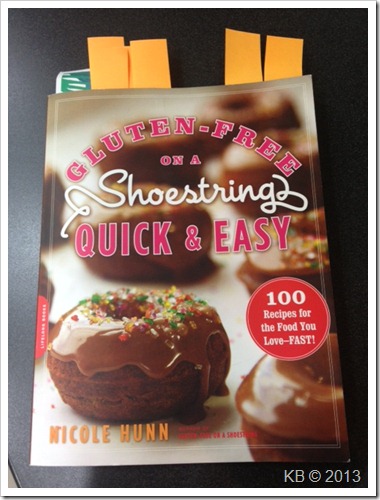 More about the new cookbook:
The new book shows you how eating gluten-free can be enjoyable, affordable—and fast. Each of these 100 original recipes can be on the table in 40 minutes flat—all on a shoestring budget.

Recipes include:

• Glazed Chocolate Doughnuts, Yeast-Free

• Twinkie-Style Cupcakes

• Egg Fried Rice

• Boule Bread

• Pancetta Meatball Soup and more!

Praise for Gluten-Free on a Shoestring:

"Hunn successfully tackles a chief complaint voiced by special-diet newbies: sticker shock. Her practical tips for shopping and cooking to save time and money are a gift to all of us who are paying too much for too little."—Living Without

For more information about the book and its author, visit GlutenFreeOnaShoestring.com and join the conversation at Twitter.com/GFShoestring and Facebook.com/GFShoestring.
This book is full of wonderful ideas from yeast-free, gluten-free bread (WHAT?! – Yes, really!) and English muffins to yeast-free pizza dough to a dairy-free, egg-free "Crazy Cake" that can be put together in 10 minutes and baked for 25.  Hunn includes a list of Convenience Pantry Items to Buy, A Note About Gluten-Free Flours and Make-It-Snappy Kitchen Tools and Equipment in the front of the book to help ensure you are ready to go.
I truly enjoyed reading and cooking/baking from this book.  My favorite, though, has to be the No-Bake Cheesecake.  The recipe suggests using Schar Shortbread Cookies or Vanilla Wafer Bars, but I didn't have either on hand. I ended up using Lucy's Chocolate Merry Mint Cookies.  I know, right?  AH.MAZ.ING! I did omit the lemon juice since I was using mint cookies and added mini-chocolate chips on top.  I may have hidden some of this away from Jon the food monster that lives in my house.
How would you like to win a copy of Gluten-Free on a Shoestring Quick & Easy?  All you have to do is follow the directions in the Rafflecopter box below.  Giveaway is open to US residents only.
*The giveaway cookbook will be mailed to the winner straight from the PR company at their expense.  The thoughts and opinions shared here are mine and have not been influenced by anyone or anything.