February always seems like such a long month even though it is the shortest month.  I don't know if that is because I am just plain tired of the weather or what, but I am ready for spring.  We have been getting glimpses of spring here and there in between our wicked cold temps.  Today is one of those days – 49 is the predicted high, which will feel warm compared to single digits last week.  Even the puppy is ready for warmer temps with her new haircut.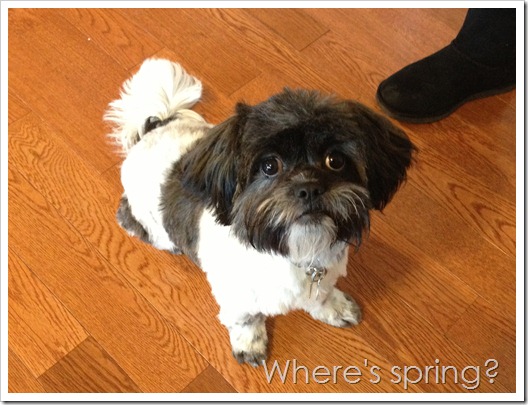 ---
The plan:
Sunday – Tacos, black beans, corn and salad <—Living on the wild side moving tacos to Sunday.
Monday – Rotisserie chicken, coconut baked brown rice, broccoli and salad
Tuesday – Brown rice pasta with marinara and salad
Wednesday – Breakfast for dinner – waffles (with a new mix to review) and fruit salad
Thursday – Bison burgers, sweet potato puffs, carrot sticks and salad
Friday – Gluten-free Sonoma Flatbread pizza and salad
Saturday – Take-out
---
Week in Review:
Only 2 days left to enter to win a copy of "Gluten-Free on a Shoestring Quick & Easy"
Skittles debuts new variety – come on over to the Darkside!
Katz brings back an old favorite – Hamantaschen
Sex and the Celiac: Dating Tips for the Gluten-Free
Review: 1-2-3 Gluten-Free Poundcake
Review: Van's Whole Grain Gluten-Free Crackers
Have a great week!