Valentine's Day is notorious for including treats that may be rich and decadent.  Those treats don't have to be loaded with fat and sugar to taste good, though.  Guiding Stars' expert chef, Erin Dow, has created the following Valentine's Day recipes that are both delicious, nutritious and gluten-free.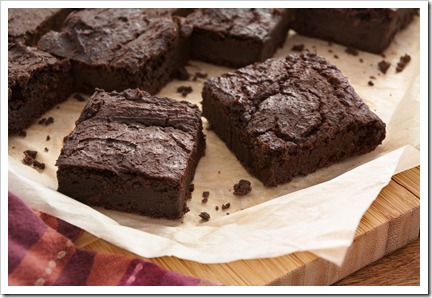 Black Bean Brownies

Erythritol is a sugar alcohol that is 60–70% as sweet as table sugar yet it is almost non-caloric, does not affect blood sugar, does not cause tooth decay, and is partially absorbed by the body.  It is less likely to cause gastric side effects than other sugar alcohols due to its unique digestion pathway.

Number of Servings: 9 (1 Brownie) (80 G )

Prep Time: 15 Minutes

Cook Time: 45 Minutes

Ingredients

· 3/4 cup Granulated Erythritol

· 3/4 cup Regular Cocoa Powder (unsweetened)

· 1/4 cup Quinoa Flour

· 1+1/2 teaspoon Baking Powder

· 1/2 teaspoon Baking Soda

· 1/2 teaspoon Instant Coffee

· 1/4 teaspoon Salt

· 3 tablespoon Ground Flaxseed

· 1/3 cup Almond Milk (unsweetened)

· 1/2 cup + 1 tablespoon applesauce, unsweetened

· One 15 1/2 ounce can no salt-added Black Beans, drained and rinsed well

· 1 tablespoon Canola Oil

· 1/2 teaspoon Vanilla Extract

Directions

· Preheat the oven to 350 degrees Fahrenheit. Line a 9-inch brownie pan with parchment paper.

· In a small bowl, stir the flaxseed and almond milk together, set aside to thicken.

· In a medium-sized mixing bowl, whisk together the dry ingredients and set aside.

· In a blender, puree applesauce, black beans, oil, vanilla and thickened flaxseed mixture.  Puree until all of the beans have been liquified. Pour into a large bowl.

· Add the dry mixture to the wet in thirds, whisking thoroughly each time. The batter should be thick.

· Spread the batter in the prepared pan.  Bake for 45 minutes.  To test if the center is cooked, tap the surface. If it's firm and springs back, it's ready.  Let cool for about 30-40 minutes in the pan, then flip onto a drying rack top-side/ugly-side down.  Peel off the parchment paper and let cool completely before slicing.
*Kim's note – I am not big on sugar substitutes and plan on using 1/3 to 1/2 cup of honey or maple syrup in place of the granulated erythritol when I make these.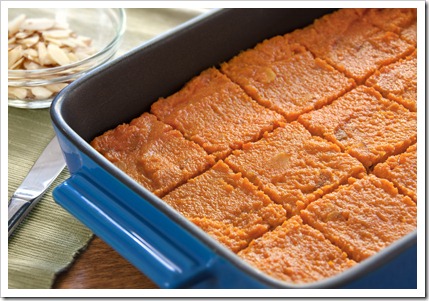 Carrot Bars

This Indian-inspired dessert is simple and sweet. Perfect for wowing the guests at your next celebration, this spicy-sweet confection is as lovely as it is flavorful. Look for green cardamom pods at your local Indian grocer.

Number of Servings: 6 (696 G )

Prep Time: 10 Minutes

Cook Time: 1 Hour and 20 Minutes

Ingredients

1/2 cup vegetable oil
3/4 cup applesauce
1/4 cup almonds
4 pounds carrots, peeled and grated
8 cups skim milk
4 green cardamom pods
6 tablespoons date puree

Directions

· Toast almonds over dry heat until fragrant.

· Combine grated carrots, milk, and cardamom pods in a large, heavy bottomed pot. Bring to a boil, then reduce to a simmer and cook, stirring, until all milk has evaporated, about 40 minutes.

· When liquid has evaporated, add oil and applesauce. Fry, stirring constantly, until dark orange, about 30 minutes. Add sugar and almonds. Cook, stirring, for 2 minutes.

· Serve at room temperature.
Almond Truffles

Looking for a sweet, healthful nibble? This combination of dates, almond butter and cocoa powder will get you going again, and with a bit of protein, it will stave off hunger in between meals.

Number of Servings: 18 (36 G )

Prep Time: 10 Minutes

Ingredients

· 20 Medjool dates, seeded and halved

· 1/2 teaspoon vanilla extract

· 1/3 cup almond butter

· 1/3 cup unsweetened shredded coconut

· 1/3 cup plus 1 tablespoon natural cocoa powder

· 1/4 teaspoon sea salt

· 1 teaspoon cinnamon

· 1/3 cup toasted almonds, well chopped

Directions

· Put the dates and vanilla in a food processor and run until a chunky paste forms. Add the almond butter and pulse a few more times. Add the coconut, cocoa powder, salt and cinnamon and pulse a few more times.

· Roll a heaping tablespoon of the mixture between your palms to form a ball. Repeat with remaining mixture. Put your chopped almonds on a plate and roll each truffle in the almonds. Chill until firm.
What is your favorite way to indulge on Valentine's Day?  Would you be willing to try a healthy treat in place of it as long as it tasted good?
---
Don't forget to enter to win a copy of
Gluten-Free on a Shoestring Quick & Easy
– giveaway ends tonight!