I have a close friend who was diagnosed with Multiple Sclerosis (MS) in October of 2006.  I met Melissa just a little over a year ago while training for 5 half marathons with MIT.  We ran together for many miles of training and then for 3 of my 5 half marathons last year.  Melissa is an amazing woman who is doing a phenomenal job of showing MS who is boss – she runs her MS, it does not run her.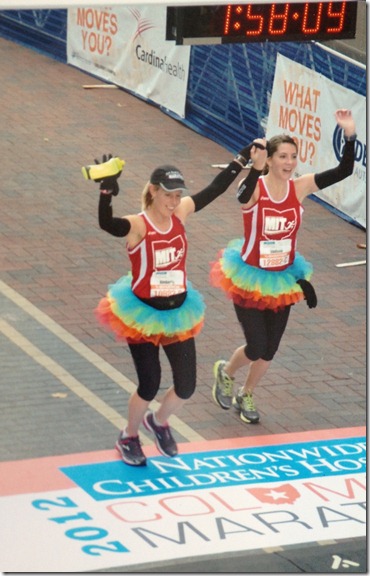 Melissa and me completing our last half marathon of 2012 with a PR for her – 1:54:25.
Melissa started a team – Miles for Myelin – to help raise money to support cutting edge research projects, as well as provide programs which address the needs of people living with MS today.  I have happily joined this team and will be running for MS because I want to do something for the people who have been diagnosed – and because we want to prevent more people from learning what it means to live with MS. Today, there is no cure for multiple sclerosis, and with a diagnosis occurring every hour in this country, it's time to act. Diagnosis is most common between the ages of 20 and 50, and individuals face a lifetime filled with unpredictability.  I will be running the Cap City Half Marathon (for the third time) on May 4, 2013 as a Miles for Myelin team member.
More about Melissa and her story:
I love saying Run MS! My motto since the beginning has been, "I have MS, it doesn't have me". Since finding out that I have MS in 2006 my life has changed completely. I have changed completely. I have learned who I am and I have learned that I can do ANYTHING that I put my mind to. I love saying Run MS because I fear that someday MS might Run me. Not today though. Today I run my MS and today I will do everything I  can to keep it that way for a very long time.

I have known since October 10, 2006 that I have Multiple Sclerosis. I decided, maybe that not day but shortly after, that I couldn't be sorry for myself. Life would go on and I could either hate every day and be miserable or work with what I did have. At that time, I had no strength on the right side of my body. In fact I was admitted to the Hospital for having a stroke. I couldn't write or use my right arm for much of anything, my mouth drooped (really not attractive!) and my right foot kinda drug on the ground when I walked.

Fortunately, with a lot of steroids, physical therapy and occupational therapy I regained most of the strength that was lost. I've had flare ups since then and I've been through 4 different drugs. I'm on the 5Th now and it seems to be doing it's job. Thank you God. But there are side effects. In fact, all of the options have very severe side effects. That is why I am so passionate about raising awareness and funds for research. I have three children and a husband that I never want to cause burden or pain. I hope that someday soon they can discover not only better treatments but a cure.

"Commit to the Lord whatever you do and your plans will succeed." Proverbs 16:30
Melissa also follows a gluten-free (Paleo) diet to manage her MS and her daughter's ADHD.  You can follow her progress and yummy meals on her Facebook page – Run This House.
I am trying to reach a goal of raising $500 to help Melissa reach her goal of raising $10,000 this year for Multiple Sclerosis.  Can you help us reach that goal?  Click here to donate – every bit counts, but for each donation of at least $5.00 you will be entered to win a box of gluten-free goodies from Gluten-Free is Life!
The package will include:
Lucy's Holiday Sugars Cookies
Jo-Sef Chocolate O's
Cocomama Quinoa Cereal pouches (2)
Enjoy Life Not Nuts Seed and Fruit Mix – Mountain Mambo
Lucy's Brownie Cakes
Annie's Homegrown Cocoa & Vanilla Bunny Cookies
Crunchmaster 7 Ancient Grains Hint of Sea Salt Crackers
Orgran Outback Animals Chocolate Cookies
LaraBars (7 various flavors)
Van's Whole Grain Cereal Bars (3 – one of each variety)
Schar Cheese Bites
Turbana Plantain Chips
Crispy Natural Chips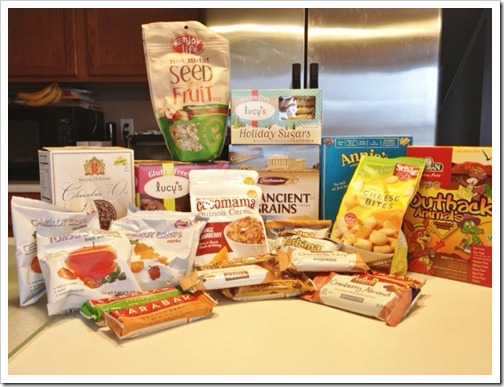 This package has a retail value over $50!!  I may even toss in some more goodies if I reach my goal of $500!  So, head over to donate and don't forget to leave a comment telling me that you did!
In order to be entered in the giveaway, please post a comment below letting me know that you donated at least $5.00.  You don't have to share the amount publicly here or on the donation page, but I need to be able to verify the donation and cross-reference via the comment you leave in order for your entry to count.
*Some of the items in the prize package were sent to me free of charge for sampling purposes and there was more than we could eat.