Working out later in the day always poses a challenge for me, especially if the workout is around dinner time.  Some Tuesday nights I go to BodyPump class with my friends and then grab a drink after the class, so I am forced to eat a small, early dinner and then to refuel with a larger than normal protein bar or late dinner.
It seems perfectly fitting that I received some complimentary samples of the new Core Defender Meal Bars to try out just as I was trying to figure out the best way to fuel my body on these tough days.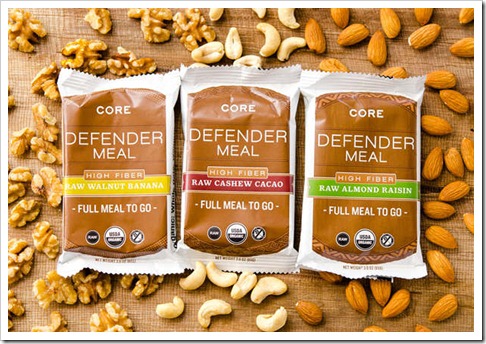 CORE Meals are a fresh, full bowl of raw oatmeal to go. Eat like a bar, drink water, and you'll be satisfied for hours! Made from 7 whole, raw, 100% organic, tested GF ingredients, the whole foods in CORE Meals provide powerful, stable energy. With a controlled, fully balanced ratio of calories, complex carbs, lean proteins, and healthy fats, CORE Meals are loved by athletes for pre/post workout meals and depended upon by busy moms and adventurers. Learn more from our Frequently Asked Questions, explore our ingredients, and enjoy! 🙂
Some background on Core Foods:
On a quest to get to the bottom of human nutrition, our founder Corey Rennell trained with elite athletes, researched the biology of food and lived with 12 tribes from around the world. Remarkably, he discovered the most profound and consistent things we know about nutrition are REALLY SIMPLE. At CORE, we apply this enduring wisdom to make convenient, healthy, food. Inspired by the inherent reciprocity of the traditional people Corey lived with, CORE Foods is a not-for-profit B Corporation, with 100% of profit being reinvested in food, community, and the planet. We believe that healthy food is a human right and we strive to separate food from profit in the way we do business.
Many protein bars are candy bars in disguise, but not these bars!  These bars are full of real, wholesome ingredients.  There are three varieties of the Defender bars:
Raw Walnut Banana

– Whole oats, raisins, flax, bananas, ground spices

Raw Cashew Cacao

– Whole oats, cashews, cacao, raisins, flax, ground spices

Raw Almond Raisin

– Whole oats, almonds, raisins flax, ground spices
I emailed my contact to make sure the oats were from a gluten-free source and received this response:
Hi Kim,

Thanks for contacting us! We source our oats from Bob's Red Mill (http://www.bobsredmill.com/gluten-free-information.html).  While his oats aren't certified gluten free, we've spoken to numerous celiacs specialists who have given a nod to his lack of certification because of his fastidious management of a separate processing line.

While we are not working in a gluten free kitchen, we have more stringent standards for washing and preparing the kitchen for our product run than most facilities or companies do.  To top it all off, we test every batch of our product for gluten using EZ gluten strips from Elisa Labs.  This test system tests to 10ppm and we complete it on every flavor beginning, middle and end.

If you have any questions or hesitations, please feel free to contact us!

Best,

Laraine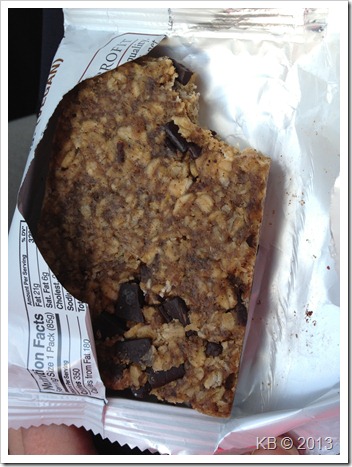 Raw Cashew Cacao Bar
I was impressed with the flavor of the bars.  They aren't sweet, which is a good thing, and you can actually taste each and every ingredient.  I believe the Raw Banana Walnut is my favorite of the three.  The package recommends drinking 2 glasses of water along with the bar in order for it to equal a meal – a bowl of oatmeal.  I was full from the bar and 1 glass, so I am not sure how I could have drunk another glass of water.  The bars are very satisfying and have between 350-400 calories, 11-12 grams of protein, 19-24 grams of fat, 7-8 grams of fiber and 20-21% of the RDA of iron.  The bars are real food, so they go bad and must be kept in the refrigerator (2 months) or freezer (6 months).  They can be kept for a week on-the-go if necessary.
The Defender Bars can be purchased directly from the Core website for $39.99 for 10 meals (bars).  Like I have said before, while they are pricey, consider the convenience of the bars and that they are on-the-goal meals that are roughly twice the size and calories of the traditional bar.  "Like" Core Foods on Facebook for a $5.00 off coupon and to enter to win a free case ($40 worth!).
*These bars were sent to me free of charge for review purposes.  The thoughts and opinions shared here are mine and have not been influenced by anyone or anything.