It's Monday!  Are you ready for a new week?  I had a couple of early morning (5:30 AM) clients today and it was 18 when I left for work.  I am so ready for the cold weather to be gone.  Apparently the temperature will be getting up to 50 later today, which will seem warm after this weekend.  I guess I should celebrate that the temperature is predicted to be over 20 for our long run on Saturday.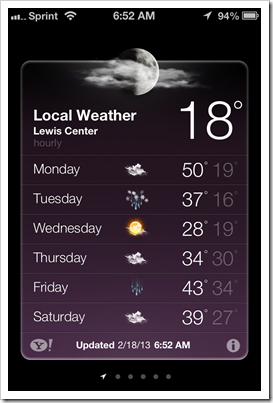 ---
I read yesterday over at Gluten-Free Philly that California Pizza Kitchen will be testing gluten-free pizzas later this year.  I sure hope that they take all of the necessary precautions, unlike last time.  They do currently offer several gluten-free menu items, though I am not sure how safe I feel eating there seeing that they didn't seem to grasp the seriousness of cross-contamination.
---
Monday – Sweet Thai Chile salmon, coconut baked brown rice, sugar snap peas and salad
Tuesday – Easy Enchilada Bake, corn and salad
Wednesday – Italian grilled chicken, fettuccine Alfredo and salad
Thursday – Waffles and fruit salad
Friday – Make your own pizza and salad
Saturday – Take-out
Make sure to check out more gluten-free menu plans over at Jo-Lynne Shaw's Musings of a Housewife.
---
Week in Review
Miles for Myelin – Enter to win a gluten-free food package worth over $50 by donating at least $5.00 towards MS research.
Review and discount on Core Defender Meal Bars
Refrigerated cookie dough review: Yes, you can eat this straight from the refrigerator!
Review: Trader Joe's Flourless Chocolate Cake
Review: Trader Joe's Chocolate Chip Brownie
Have a great week!