Almonds are naturally gluten-free and naturally yummy.  I love to eat them by the handful, on salads and baked into my favortie recipes.  I am excited to share the winning recipes of the Almond Board of California's Nutrition Pros Know Best Almond Challenge, where nutrition professionals submitted their best almond-inspired recipes.  I made both recipes and fell in love.  My favorite is the Intense Chocolate Almond Bites – these little bites of heaven are so easy to make and are the perfect way to end a meal or even refuel after a tough workout!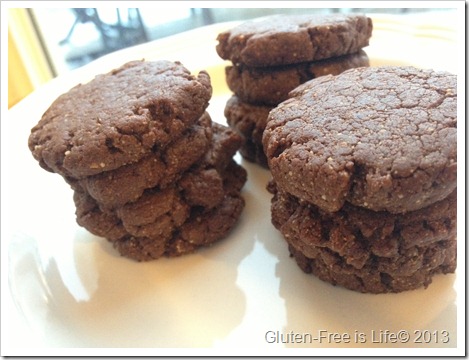 Intense Chocolate Almond Bites (Gluten-free)

Created by Cheryl Harris, MPH, RD, CWC, CLC

Ingredients

· 1 cup whole roasted almonds

· ⅓ cup cocoa powder

· ¼ tsp salt

· ¼ cup honey

· ½ tsp vanilla extract

Instructions

1. Preheat oven to 325º.

2. Put the almonds, cocoa powder and salt in a food processor and grind until only small pieces of almond remain, about 2 minutes.

3. Add in honey and vanilla extract and pulse for 30 seconds.

4. Form into balls the size of a cherry and flatten down.

5. Place on a Silpat mat or parchment lined cookie sheet for ease of cleanup (these do not spread, so feel free to put them close together).

6. Cook for 9-11 minutes or until browning.

7. The bites harden as they cool after baking.

Makes 20 bites, serving size is four bites

Approximate calories per serving: 205 calories
The other winning recipe was very good, but chocolate anything is the way to my heart.
Orange Almond Cake (Gluten-free)

Created by Laura Uyemura, RD

Ingredients

· 4 large egg yolks

· 2 Tbsp orange zest

· ½ tsp cinnamon

· 2 Tbsp sugar

· 1½ cups almond flour or almond meal*

· 2 Tbsp sugar

· 4 large egg whites

· 4 Tbsp sugar

· Pinch salt

· Powdered sugar

· 2-3 Tbsp slivered almonds for decoration

*You can purchase almond flour or almond meal, the latter is ground with skin. You may also grind your own in a food processor or blender, using about 1½ to 2 cups of almonds.

Instructions

1. Preheat oven to 375º

2. Prepare a 9 inch cake pan or springform pan: grease bottom and sides well. Cut out a circle of wax paper and fit it into the bottom of the pan. Grease the paper. Coat the bottom and sides of the pan with almond flour, shaking out the excess.

3. Beat egg yolks, zest, cinnamon, and 2 Tbsp sugar with electric mixer.

4. Mix almond flour with 2 Tbsp sugar and stir into the mixture above.

5. Beat egg whites, pinch of salt, and 4 Tbsp sugar until soft peaks form.

6. Blend a large spoonful of the egg white mixture into the almond mixture with a spatula. (It will be very stiff so mash it in, and add more whites until it's soft enough to fold in the rest.)

7. Fold in the rest of the egg whites.

8. Pour into prepared pan.

9. Bake for 35 minutes until tester comes out clean.

10. Cool in pan, then un-mold and turn onto a serving platter.

11. Sprinkle with powdered sugar and slivered almonds.
Now for the really exciting part! One lucky reader will win almond flour, slivered almonds and whole roasted almonds so they can create the winning recipes.  All you have to do to enter to win is follow the directions in the Rafflecopter box below.
a Rafflecopter giveaway

*The products used to make these recipes and being offered in the giveaway were supplied to Gluten-Free is Life free of charge for review and giveaway purposes.  The thoughts and opinions shared here are mine and have not been influenced by anyone or anything.