Have you heard about "The Perfect 10 Kookie" or Karlie's Kookies?  It is this amazing cookie kookie that was created by famed Momofuku Milk Bar pastry chef, Christina Tosi and her long-time friend and supermodel, Karlie Kloss.  More about the kookie:
The Perfect 10 Kookie (see recipe below) is a delicious treat made with healthy, all natural ingredients and is dairy-free, gluten-free and sweetened with agave.  The cookies are available for sale at Momofuku Milk Bar in Manhattan and 30 percent of the proceeds go to FEED, an organization that provides school meals to children around the world through the United National World School Feeding program. Each "perfect 10 kookie" sold provides 10 school meals to hungry children around the world.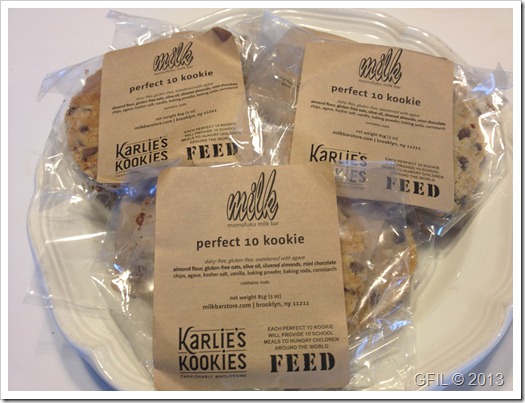 I was blown away by these kookies!  They have a wonderful texture and flavor and I love the simple and natural ingredient list. I kept waking up thinking of the cookies and almost justified having one for breakfast!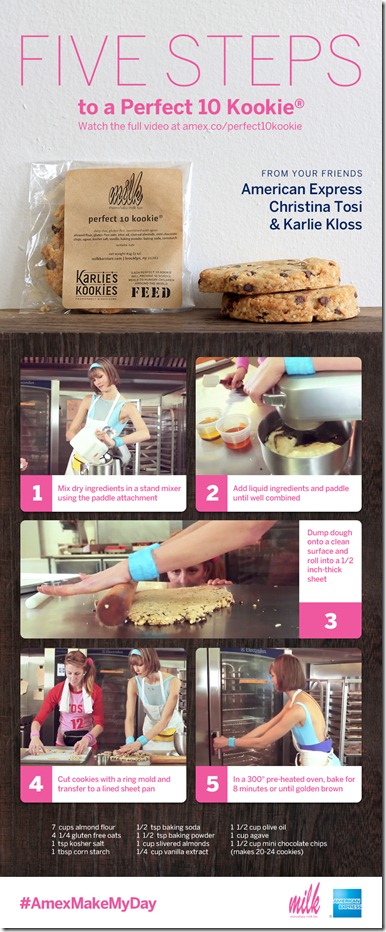 Ingredients:
7 cups almond flour
4 1/4 cups gluten-free oats
1 tsp kosher salt
1 tbsp cornstarch
1/2 tsp baking soda
1 1/2 tsp baking powder
1 cup slivered almonds
1/4 cup vanilla extract
1 1/2 cup olive oil
1 cup agave
1 1/2 cup mini chocolate chips
(Makes 20-24 large cookies)
The cookies can be made by following the recipe above, or enter below for a chance to win one of 5 giveaway packages of Karlie's Kookies.  Each winner will receive 2 tins of Karlies Kookies!
Since this giveaway initiative is being led by American Express, here's some more background that will help you understand the impetus behind it (and what #AmexMakeMyDay is):

· Momofuku Milk Bar's famed pastry Chef Christina Tosi is part of an ambassador program at American Express that celebrates Cardmembers who are on an inspiring journey. In just four short years, Christina has used her American Express Card to grow the Momofuku Milk Bar empire from an idea, to a shared kitchen space in a busy restaurant, to five bakeries and a commissary.

· In the "Make My Day" program, American Express goes the extra mile by rewarding its Cardmembers and social media followers with experiences that make their day. The initiative started last summer as a pay-it-forward style promotion tailored to American Express' loyal Twitter and Facebook communities.

· American Express, Christina and her long-time friend and supermodel Karlie Kloss teamed up to create a healthy cookie that's just as delicious as it is nutritious and also benefits a great cause. So, American Express wants to extend the "Make My Day" experience even further by giving away the Perfect 10 Kookies to you.
*The products reviewed in this blog post were sent to me free of charge for review and giveaway purposes.  The thoughts and opinions shared here are mine and have not been influenced by anyone or anything.