It is no secret, when I do something, I do it 150%.  There is no half-assing it for me.  I either do it or I don't.  This can be a good trait to have, but it can be detrimental to body and mind, as well.  A good example of where it can be bad or detrimental is training.  Yes, it is good to push through some workouts, but the saying "No Pain, No Gain" doesn't always win.  There is a time and a place for that mantra, but there is a "small" thing called "overtraining" that is very real.  Take it from someone who has been there, has been forced, by her body, to take time off (to the tune of approximately 90 days).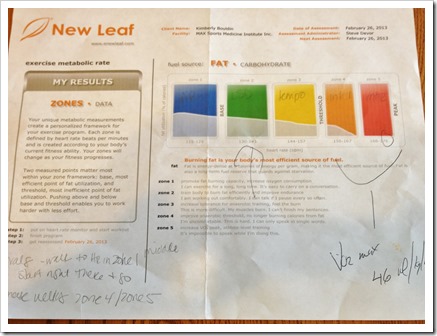 Having done the VO2 Max test two times before, I was not looking forward to it.  The test itself doesn't last long, but it is pretty intense.  It comes down to a mental thing for me – mind over matter.  I made sure to let Dr. D know my concerns before the test began and he had me running faster with less incline to really get my HR up.  The other challenge is wearing the mask while running – it is hard to get a good breath when you are really working hard (the point of the test) and I always feel like I am slobbering on myself.  Why was I interested in doing the test again?  In the past year my Zone 2 run paces have significantly changed.  They were roughly 10:00 – 10:15/mile at this time last year and are roughly 9:00 – 9:30, depending on the day, now.  I wanted to make sure that the data that I have been putting so much faith in, using to guide my training, was still accurate for me.
Before I get to the results, I want to recap the past 2 tests:
The results from February 2011:

VO2 Max: 46.8
Max HR: 171
Weight: 126

Zone 1 – Active Recovery – 106 -133
Zone 2 – LSD (long slow distance/Saturday runs) – 133 – 145
Zone 3 – Tempo – 145 – 153
Zone 4 – Interval #1 – 153 – 163
Zone 5 – Interval #2 – 163 – 171

The results from January 2012:

VO2 Max : 42.3
Max HR: 174
Weight: 130

Zone 1 – Active Recovery – 120-131
Zone 2 – LSD (long slow distance/Saturday runs) – 132 – 146
Zone 3 – Tempo – 147 – 157
Zone 4 – Interval #1 – 158 – 166
Zone 5 – Interval #2 – 166 – 174
And now the most recent results:
The results from February 2013

VO2 Max: 46
Max HR: 178
Weight: 128-130 (I don't weigh myself, so this is based on the last time I was weighed at the dr's office)

Zone 1 – Active Recovery – 115 – 129 <—high end 2 beats lower than last year

Zone 2 – LSD (Long Slow Distance/Saturday Runs) – 130-143 <—high end 3 beats lower than last year

Zone 3 – Tempo – 144-157 <—low end 3 beats lower than last year

Zone 4 – Interval #1 – 158 – 167 <—higher high end

Zone 5 – Interval #2 – 168 – 178 <—higher low end and MHR
Notes and Thoughts:
The first thing I noticed is Zone 2 has changed.  This is significant because most of my running is done in this zone.  A few heart beats from each side, low and high, can make a big difference, especially on the high side.  It is the difference between an easy run and a tempo run, which on a tired body can cause problems over time.  In the scheme of things it comes down to me just keeping a closer eye on that high end when I am running, especially outside since I run a lot of hills.
VO2 Max has increased from 42.3 ml/kg/min last year to 46 ml/kg/min this year.  What does that mean?  It means that today I am a fitter version of myself than I was at this same time last year.  Dr. D says an increase of 10 ml/kg/min equates to 10 minutes off of your marathon time. I am not running marathons, but half marathons and I did take 5 minutes off of my time from October 2011 – September 2012.  Interestingly enough, my VO2 Max increased 4.3 ml/kg/min from last year.
Speed work and intervals are to be done a little differently than traditionally prescribed.  The time between intervals should be spent walking slowly to bring the HR back into the middle of zone 1.  Once my HR is in the middle of zone 1, I am to take off from right where I am.  If I am on the track, it will be a different place from where I stopped the last interval.  I am not to pay attention to the time between intervals.  If my body is ready to go back at it after 30 seconds, so be it.  If it takes 2+ minutes, again, the HR dictates readiness.  <—I have known this for a while, but got away from the practice.
Alternate interval intensity week to week.  Interval 1 (zone 4) one week for speed work and Interval 2 (zone 5) the next week.
Long runs are run in zone 2.
Recovery runs are run in zone 1.
My week should look like this:
Easy zone 2 runs: 1-2
Speed work: 1
Tempo runs: 0-1
Long slow runs: 1
Recovery runs: 1
Assess resting heart rate and use that as a guide to see how the body is recovering.  To get an accurate idea of my resting heart rate I will take my resting heart rate upon waking (before getting out of bed) for 5-8 non-consecutive, non-weekend nights and then figure out the average.  It will then be important to take my resting HR on days where I may have a tougher workout to ensure that my body is ready.  If my resting HR is more than 5 beats higher than normal it is probably best not to add any extra stress like a tough speed workout.  Perhaps a easy run is a better choice on this particular day.
Resting is just as important as any other workout or run.  If you don't believe me, read this great article from Runner's World.
I am excited to for my very full race season to start!  My first (of six) half marathons this year is on April 7, 2013 and I am hoping to run a sub 1:50!  UPDATE: I ran 1:48:19 on April 7, 2013!
Have you had the VO2 Max done?  Do you follow heart rate guided training?