Did it warm up where you live this weekend?  It did here in Ohio – thank God!  While I know the 60 degree temps may not be around for good yet, it was nice to get a reprieve from the frozen toes and fingers on my Saturday run. Saturday was one of those days where I wish I had more than 5 miles on my training plan.  This coming week looks like it will be up and down with the temperature, which is better than freezing cold.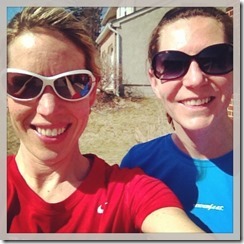 Yay for warm runs with friends!  Look, no snow on the ground!

---
Did you remember to Spring Forward last night?  I depended on my iPhone and cable box for the move – good thing they both played along nicely!  Busy week ahead for us.  Lots going on during the dinner hour makes it tough to get everyone fed.  I have found the best way to solve this is to prepare foods that can be easily reheated and served as each person needs to eat.
Monday – Easy Enchilada Bake (never ended up making this last week), corn and salad
Tuesday – Baked Ziti, steamed green beans and salad
Wednesday – Leftovers
Thursday – BBQ pulled pork sandwiches or salad, sweet potato puffs and salad
Friday – Make your own pizza and salad
Saturday – Breakfast for dinner and fruit salad
---
Don't forget to enter to win the
Little Soya Soy Sauce giveaway – ends tonight
!
Celiac Disease, Eating Disorders and a Book Review
organicgirl good clean greens review
Daiya is introducing new products – cream cheese, cheese slices and pizza!
Only one more day to enter to win a Gluten-Free Conscious box!
Miss granola bars? Nature's Path has introduced some amazing chewy granola bars! 
Last, but not least, don't forget to head over to read about what I am doing to help fight the battle against MS.  Making a donation of just $5 will enter you into the drawing to win a gluten-free gift package worth over $50!