Lots of exciting stuff going on today!  I tried out two new-to-me products: a new gluten-free bar after my run and a new heart rate monitor to monitor my HR, distance, etc,  First, let's chat about the food.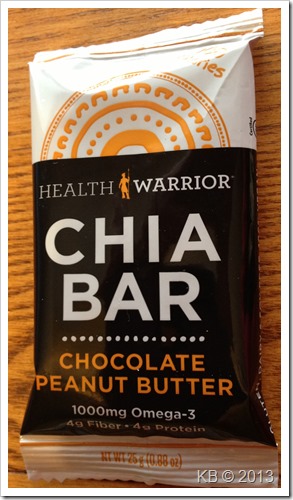 I found these bars in my local Earth Fare store last week and I loved that the were a smaller version (roughly half the size of a normal bar) of a protein bar, making them perfect for shorter workouts. The Chia Bar I bought was the Chocolate Peanut Butter variety, but they also make an Acai Berry and Coconut version.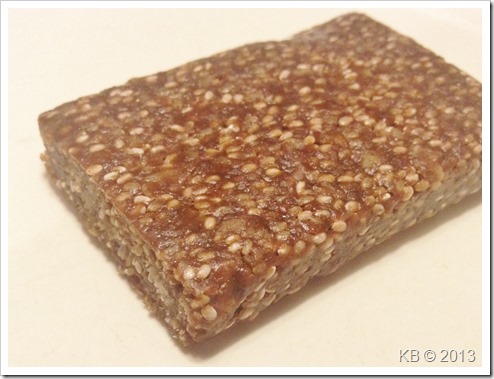 Look at all that chia goodness!  This bar was the perfect way to refuel after my running form class and 4 mile run.  I knew that I would be eating breakfast within the next hour and a half, so I didn't want to eat a full-size protein bar.  The Chia Bar packs 100 calories, 4 grams of protein, 4 grams of fiber and 1000 mg of Omega-3.  The taste and texture of the bar were great and it held me over until I was able to drop Hannah off at school and make breakfast.  In addition to being gluten-free, the bars are also dairy-free, soy-free and vegan.  Ingredients:
Chia seeds, brown rice syrup, gluten-free rolled oats, organic peanut butter, organic agave syrup, organic brown rice crisps (organic brown rice, organic brown rice syrup, sea salt), peanut flour, organic cocoa powder, arabic gum, natural peanut extract, vanilla extract, sea salt, mixed tocopherols (vitamin E).
Chia Bars can be purchased online or in your local health food stores across the US.
*This bar was purchased by me for personal use.
---
I was selected last week as one of the 25 bloggers to take part in the #iHeartOmron Running Challenge!  How cool is that?  I received new Omron Fitness Strapless Heart Rate Monitor on Friday and used it for the first time yesterday during my recovery run.  The challenge runs from March 11th-30th and the Virtual 5K takes place on March 30th.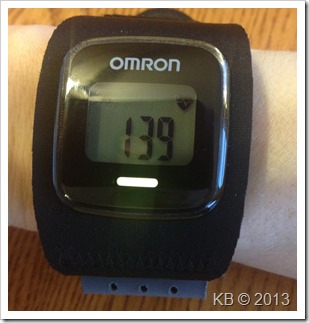 I love the light on the front of the monitor – it lights up according to HR zone!  If you want to follow me and the other 24 fantastic bloggers during this 3 week make sure to search "#iHeartOmron" and "#Mamavation" on Twitter.
**This post is sponsored Omron Fitness as a collaboration with Bookieboo Blogging Network and Mamavation – a community dedicated to weight loss for women and obesity prevention for families. I was provided with product and compensation for my time and honest opinions.