When I was pregnant with Hannah in January of 2002, I joined an online forum for moms who were due in August of 2002.   Many of us are still part of this forum and some have met in real life.  It is hard to believe that we have "known" each other for 11 years now!  We have literally watched our children go from babyhood through elementary school.  In October of 2009 we tragically lost one of our moms to breast cancer.  Paula, second from the right in the photo below, was an amazing wife and mom to 2 beautiful children.  It is because of Paula, and many others I know who have fought breast cancer, that I don't mess around when it comes to cancer screenings.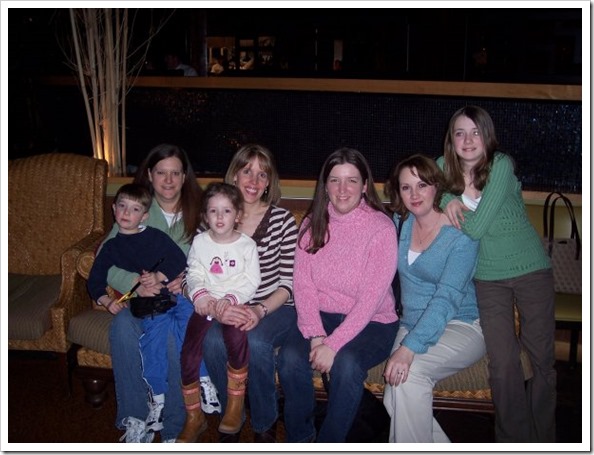 From the left: Michele and Lucas, Hannah and me, Amanda, Paula and Brittany.
Now that I am 40 I have to get yearly mammograms. WOO HOO! Just kidding. I have had a couple in the past to check on small things that I found with a self breast exam, but this is my first time going for just a screening.  Was the mammogram fun?  No, but it didn't hurt and I was in and out of there in less than 30 minutes. 
More information from the American Cancer Society:
Breast cancer

Yearly mammograms are recommended starting at age 40 and continuing for as long as a woman is in good health
Clinical breast exam (CBE) about every 3 years for women in their 20s and 30s and every year for women 40 and over
Women should know how their breasts normally look and feel and report any breast change promptly to their health care provider. Breast self-exam (BSE) is an option for women starting in their 20s.

Some women – because of their family history, a genetic tendency, or certain other factors – should be screened with MRI in addition to mammograms. (The number of women who fall into this category is small: less than 2% of all the women in the US.) Talk with your doctor about your history and whether you should have additional tests at an earlier age.

For more information, call the American Cancer Society and ask for our document called Breast Cancer: Early Detection.
If you are anything like me and have a problem remembering when it is time to schedule these screenings, check out this awesome reminder!
Are you following the current recommendations and getting your screenings done?  If not, please don't delay – the time it takes to screen can save your life!