An early morning coaches breakfast with running legend, Bill Rodgers, and 12 miles was going to make for a long morning. Historically my 12 mile runs haven't been too bad, but when I woke up and my legs were sore from BodyPump yesterday, I knew it might be challenging.  Being part of MIT Marathoners affords us many perks.  Over the past couple of years MIT has brought in several running legends including Bart Yasso and Katherine Switzer.  It has truly been a joy to listen to the stories and then hit the pavement running with them.  This year MIT/Fleet Feet brought in Boston and New York City Marathon winner Bill Rodgers!  Bill has an impressive history and it was a pleasure to hear him tell his story.
Bill won the Boston and New York City Marathons each 4 times between 1975 and 1980!  The pace coaches had the opportunity to have a quick breakfast and chat with Bill before hitting the trail.  I normally don't eat much before a long run, so I quickly ate my Honey Stinger Chews before I chatted with Bill.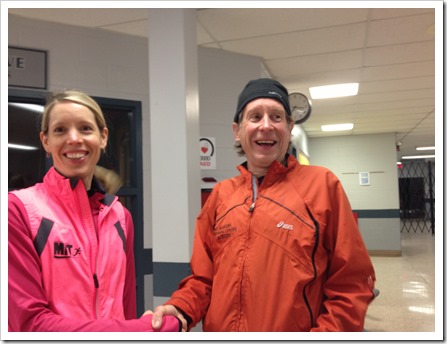 Both my dad and father-in-law are huge fans of Bill Rodgers (they are both runners)!  Bill asked how long I have been a runner and what originally inspired me to run.  Watching my dad run races when I was a child didn't seem like something I wanted to do at the time, but once I turned 35 and joined a gym, it looked a lot more attractive than the elliptical machine.  I started running on the treadmill, then outside and the rest is history.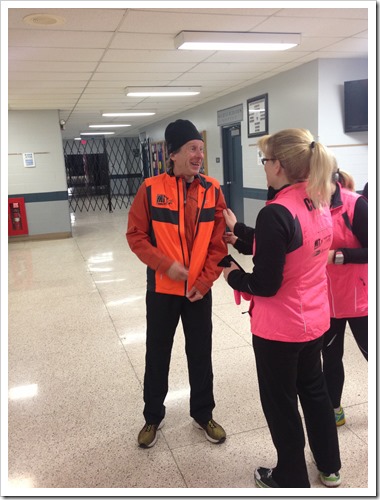 After saying a few words to the group, Bill became an honorary MIT coach for the day!  He ran with several different pace groups, including ours for a couple of miles!  I ran right in front of him and listened to him talk about running….so cool!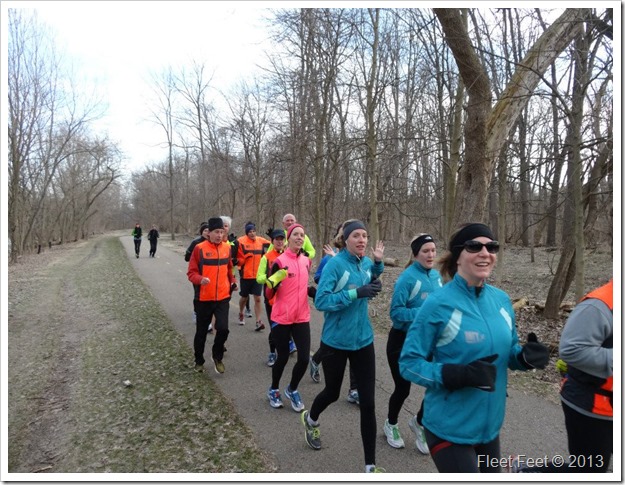 Here we are on the Olentangy Trail.  I am in the pink (imagine that).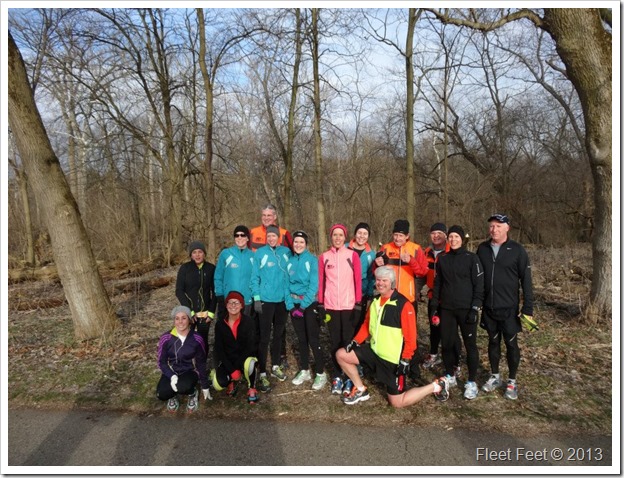 A fellow pace coach stopped the group on the trail for this photo opportunity.  It isn't every day you get a chance like this!  This photo was taken roughly 4-5 miles into our run, before my legs got heavy and felt like lead.  Bill left us shortly after this and we continued on down the trail to finish our miles.
The last couple of miles were tough.  Lesson learned, no BodyPump, no matter how light the weights, the day before a long run. I am thankful for the distraction of running with Bill Rodgers for a couple of miles in the middle of my run to keep my mind off of the cold and my sore legs.
After my run I refueled immediately with a Peanut Butter Macro Bar.  Once I got home I grabbed some coffee and put on my Zensah Ultra Compression sleeves.
What a great Saturday!  I wish they could all be this exciting!  How is your weekend going?