Happy Easter!  It's a rainy day here in Columbus, Ohio.  Fortunately for us our kids are old enough to not care that their Easter egg hunt is inside instead of outside.  My morning has been spent stuffing pastel Skittles into little plastic eggs.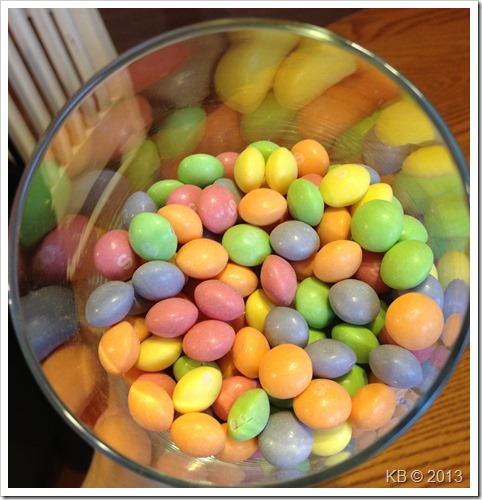 Of course a few of these made their way into my belly in the process.  I do have a little tip to share – Skittles don't taste so good right after you brush your teeth. 
---
Weekly Meals
Sunday – Ham, garlic mashed potatoes, steamed green beans and salad *Not sure if your ham is gluten-free?  Check out this list of gluten-free hams.
Monday – Ham sandwiches, salads or frittatas, fruit salad
Tuesday – Easy Enchilada bake, corn and salad
Wednesday – Bison burgers, sweet potato puffs, sugar snap peas and salad
Thursday – Italian Chicken fettuccine Alfredo, broccoli and salad
Friday – Take-out
Saturday – Make your own pizza and salad (carb loading for race the next morning!)
---
Remember my friend
Melissa
?  I shared her story about being diagnosed with MS and our fundraising efforts for
Team "Miles for Myelin" here
.  We are over half way to our goal of raising $10,000!!  If you can help and want to enter to win a gluten-free prize package filled with over $50 of gluten-free goodies, all you have to do is
donate a minimum of $5
and leave a comment telling me you did so!  I will randomly choose a winner on May 5th – Cinco de Mayo – the day after the Cap City Marathon. 
  Check out Melissa (in blue) photo bombing a picture of me with another MIT pace coach.  I can't help but giggle when I see this picture!
---
Week in Review
Is your lipstick gluten-free?  Check out my new favorite lipsticks from Red Apple Lipstick. 
Review: FITzee Bar <—Delicious protein bars that taste more like dessert!
Healthy, portable snacks that pack 1200 mg Omega-3, 4 grams of fiber and have less than 100 calories!
Missing Pop-Tarts?  Don't miss Glutino's new Gluten-Free Toaster Pastries!
Have a great week! 
Kim