I am thrilled to share with you guys that I have been selected to participate in the Verizon Health and Fitness Voices program!  What does that mean?  I am going to tell you!  For the next 6 months I will be using 2 new devices to track and share my health and fitness journey.  What is my journey?  My goal is to continue to live a healthy gluten-free lifestyle, be active in the running community (coach MIT ) and grow my personal training business.  The devices I am trying out are the Motoroloa Droid RAZR HD and FitBit One.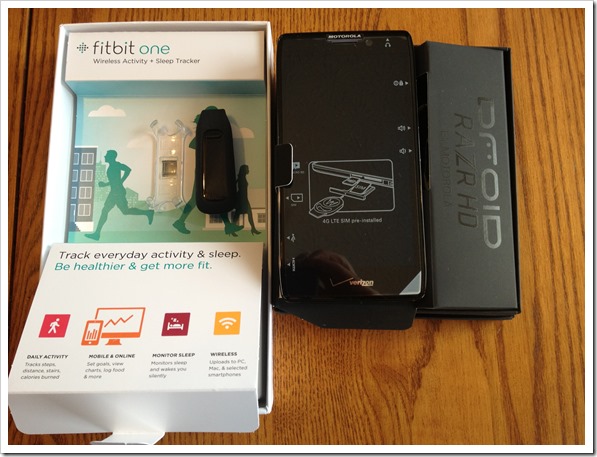 My devices arrived early on Monday ready for me to start using.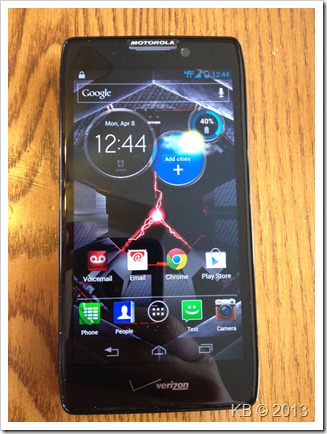 I have been having a great time learning my new devices!  Today I will share a little about The FitBit One, as it is a pretty cool device:
THE ONE™ WIRELESS ACTIVITY & SLEEP TRACKER

If you want to turn fitness into a lifestyle, the One™ is for you. For starters, it never rests. During the day, it tracks your steps, distance, calories burned, and stairs climbed. Come nightfall, it measures your sleep cycle, helps you learn how to sleep better, and wakes you in the morning. The One™ motivates you to reach your goals by bringing greater fitness into your life – seamlessly, socially, 24 hours a day.
I am most interested in the sleep tracking, as I wake frequently at night and am curious to see how much I really do wake up.  I will also be using the activity tracker, but won't be tracking calories/weight, as those are areas that can be troublesome with my eating disorder history and struggle.  Check out one of the nights I have tracked so far: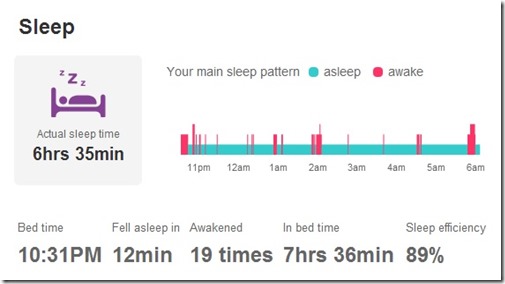 Woah!  This particular night was not a good night for me.  I remember waking frequently, which probably had something to do with iced tea being consumed at a meeting I went to for dinner. It will be interesting to see how this changes over time – for better or worse.
I'll be sharing more about these devices more frequently on my Twitter feed and later this month here on my blog.  Has anyone used either of these devices?  What are your thoughts?
Disclosure: I am participating in the Verizon Health and Fitness Voices program and have been provided with a wireless device and six months of service in exchange for my honest opinions about the product.