Tomorrow is Tax Day – have you done your taxes yet?  We finished ours this weekend – the latest we have ever completed them!  April 15th also happens to be the day that Jon was due, but he was a little late.  Our baby turns 17 later this week!  This was our bouncing baby boy back in the day…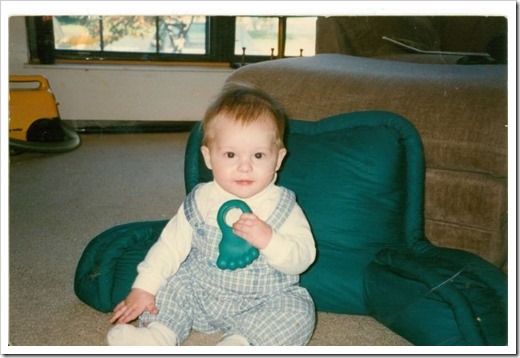 Jon was roughly 5-6 months old in this photo. 
---
Monday – Stir fry w/ marinated chicken, brown rice and
San-J
Orange Sauce
Tuesday – Mexican pizzas, corn and salad
Wednesday – Spaghetti with marinara and salad
Thursday – Breakfast for dinner and fruit salad
Friday – Make your own pizza and salad
Saturday – Turkey burgers w/ avocado, sweet potato puffs and salad
---
Week in Review:
Review: Sambazon Superfood Smoothies & Fruit Juice
Batch Cooking Gluten-Free Pasta
Review: Barbara's Honest O's cereal
How to start the gluten-free diet today
Have a great week!
Kim