I had an unintentional few days of silence last week.  My thoughts were (and still are) with those affected by the Boston Marathon Bombings and like many in the US, I was following the coverage of the apprehension of the suspected bombers.  I am back now, though, and ready to start a new week! 
Yesterday I ran my 12th half marathon – the Earth Day Half Challenge.  I ran this race for the first time last year and was thrilled to be running it again this year.  It was chillier than we would have liked at the starting line, but turned out to be a pleasant day for a run once we got going.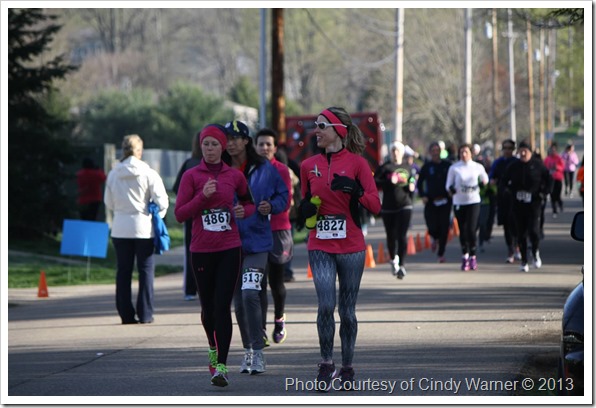 I ran this race with my friend Brandie (in the pink on the left).  Unfortunately she wasn't feeling well and had a rough race, but finished strong! 
---
Monday – Rotisserie chicken, baked potato, steamed broccoli and salad
Tuesday – Taco salads with blue corn tortilla chips
Wednesday – Lasagna Roll Ups and salad
Thursday – Leftovers
Friday – Make your own pizza and salad
Saturday – Take-out
---
Week in Review
Review: Katz Gluten Free Vanilla Cake Mix
Review: Evol Gluten-Free Burritos
Review: Blue Monkey Coconut Chips & Water
Have a great week!
Kim