My last half marathon of the spring season is 6 days from today.  The Cap City Half Marathon will be my 3rd half this spring and 13th half overall.  I have learned a lot about myself and my body over the past 4-5 years of running, but there is always more to learn.  My current quest involves figuring out why I have been getting headaches after my longest runs and races.  After the Xenia Half Marathon I thought it may have had to do with outside temperature and the speed at which I ran the race.  That theory was squashed when it was much cooler last week at the Earth Day Half Marathon and the temperature was 20 degrees cooler.  I still felt like crap for the better part of the day despite all I did to try to prevent that. 
It was mentioned to me that it could be caffeine withdrawal.  Most mornings I have 2 cups of coffee with breakfast.  I don't have coffee on race day until after my race, as it doesn't play nice with my GI system when I run.  So I am doing a little experiment.  I began to eliminate caffeine by drinking smaller cups of coffee and then yesterday by drinking 1 regular and 1 half caf.  Today I am completely free of caffeine. I made sure to have an enticing decaf option (Green Mountain Decaf Hazelnut K-Cups) so that I wouldn't be tempted to cave.  Once my race is over and I get through the day, I can assess if the caffeine withdrawal has been the problem.  Wish me luck!
---
A
few weeks back I shared
that I was a part of the
Verizon Health & Fitness Voices
program and was just getting to learn all of the cool things my new devices could do.  In addition to having some pretty cool apps that I use while I am running or working out, I ordered some new sport headphones designed by athletes –
yurbuds
*.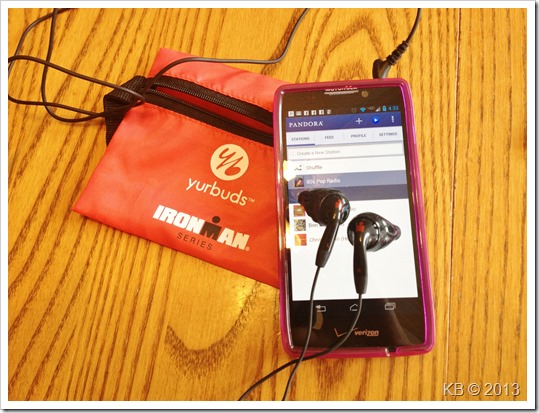 The yurbuds truly don't fall out, even in some pretty strong wind conditions!  I am very impressed with them and wish I could have bought them sooner. They even have the microphone and 1-button track control right on the wire!  
Favorite Fitness Apps
FitBit One – Easy to pull up and review my stats daily right on my Droid Razr HD.

Pandora – Music to keep me going and entertained during my runs and workouts. 

Runtastic – A simple way to track running and/or walking.  Syncs with Facebook when started and my friends can motivate me while I am running!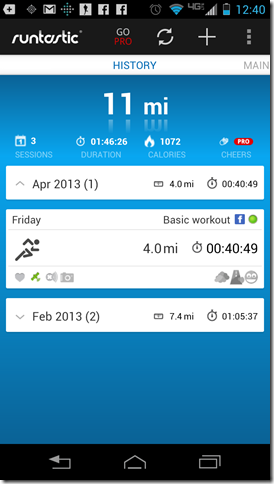 Even though I have a Garmin that tracks my runs, I like to run according to feel, as opposed to peeking at my watch every minute or so.  By using Runtastic I can accurately track my run and opt to hear updates or not hear updates as I run. 
*Disclosure: I am participating in the Verizon Health and Fitness Voices program and have been provided with a wireless device, FitBit One, Verizon Gift Card and six months of service in exchange for my honest opinions about the products.