I don't know what it is lately, but I have seen this ad for these new flavors of Kettle Brand Potato Chips that are coming out this summer everywhere.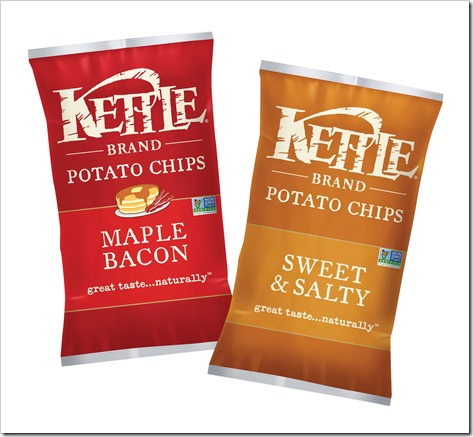 It is like they are calling my name, making sure I don't forget about them.  I am kind of excited to try these new varieties, especially the Maple Bacon after my sweet potato w/ almond butter, bacon and maple syrup last week.  All varieties are gluten-free, per the FAQ page.
---
Meals:
Sunday – Chicken fingers, baked potato, peas and salad
Monday – Beef tacos w/ soft corn tortillas, corn and salad
Tuesday – Hot dogs on Udi's gluten-free buns, baked French fries and salad
Wednesday – Baked Ziti, sauteed zucchini and salad
Thursday – Take-out (School fundraiser at a local restaurant that isn't GF friendly.  We go for Hannah and get take-out from Pei Wei for Jon and me.)
Friday –  Make your own pizza and salad
Saturday – Breakfast for dinner
---
Week in Review:
Recipe: Weekday Morning French Toast
Kinnikinnick Launches Soft Bagels
Review: Glutino Duo Cheese Pizza
Review: Udi's Soft & Chewy Granola Bars
Donato's Gluten-Free Pizza Now Available in Select Restaurants
Have a great week!
Kim