I love arugula!  It is probably my favorite salad green and I could probably sit there and eat it straight from the package.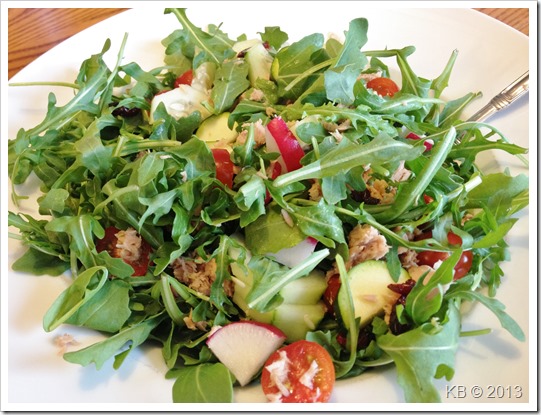 When I work through dinner time with clients or have an evening exercise class, I often eat when I get home and look for quick options.  If there aren't leftovers, I'll make a large dinner salad complete with protein and lots of yummy add-ins.  This combination is one of my current favorites and it happens to have arugula as its star!
Arugula & Tuna Salad

2-3 cups arugula
1 single serve package of tuna
Zucchini, chopped
Cucumber, chopped
Radish, chopped
Grape tomatoes cut in half
Craisins
Marzetti Simply Dressed Pomegranate Salad Dressing

1.  Combine all ingredients.

2.  Drizzle dressing over top.

3.  Enjoy!
The only thing missing from this salad was a sprinkle of walnuts.  I didn't have any on hand, but they would be the perfect finishing touch!  I see a lot more large salads for dinner with summer just around the corner. 
What is your favorite dinner salad combination?
---
Don't forget to enter to win 2 packages of Glutino gluten-free pretzels!