Saturday, May 4, 2013 marked the third time I have run the Cap City Half Marathon and the 13th Half Marathon I have run over the past 4 years.  This year the Cap City course was a little different than it was in years past.  This change was made before the Boston Bombings, though there were added security measures all around.
Saturday morning started bright and early at the MIT meet-up at the new Hilton in downtown Columbus.  What a gorgeous hotel!  I think it would be pretty cool to stay the night before a race in this hotel and be right there for race day!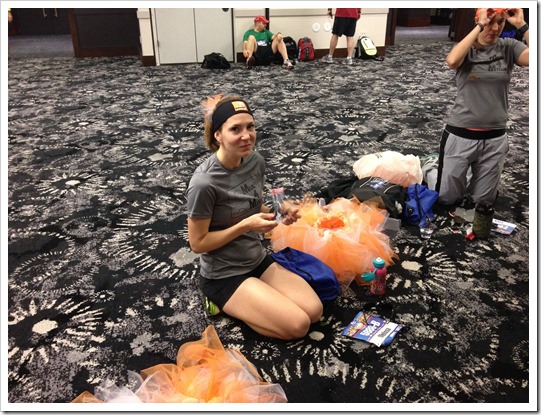 Melissa and Lisa preparing for the big race!  I paused to take the above photo in between bites of Honey Stinger Organic Energy Chews.  Man, those things are yummy!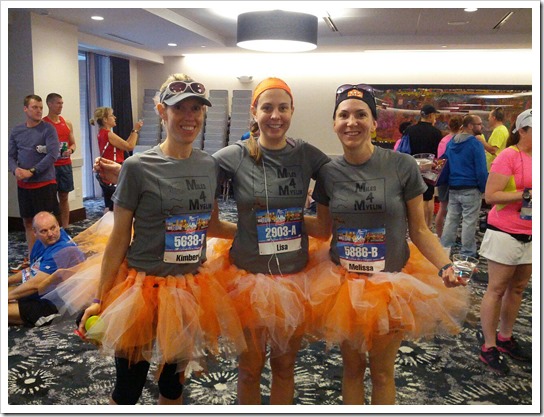 Here we are, ready to run, in our MS – Miles for Mylein shirts and tutus!
We packed up our bags and headed to the lobby to walk to the starting line at 7:15 AM.  Check out the amazing group of MIT runners who participated in this race: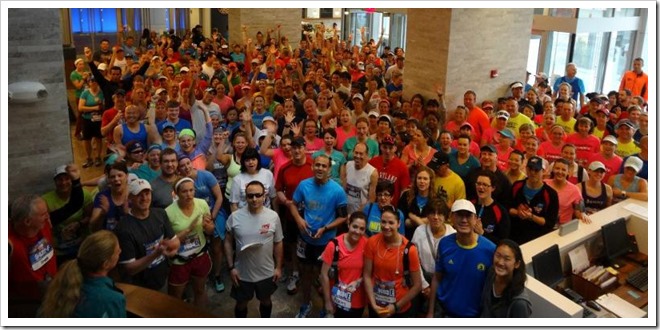 (source)
Can you find me in that picture?  Nope?  Me either.  LOL!
As we lined up with 14,000 of our closest friends, we observed a moment of silence for those affected by the horrible bombings in Boston.  It was eerie…all of those people and you could hear a pin drop.
The temperature was decent, in the 50s, but the wind was making it feel a heck of a lot colder.  I was sorry that I didn't bring a trash bag to wear until the race started. I did fashion my tutu into a cape by pulling it up to my shoulders.  Here is a picture where you can see something is not like the others…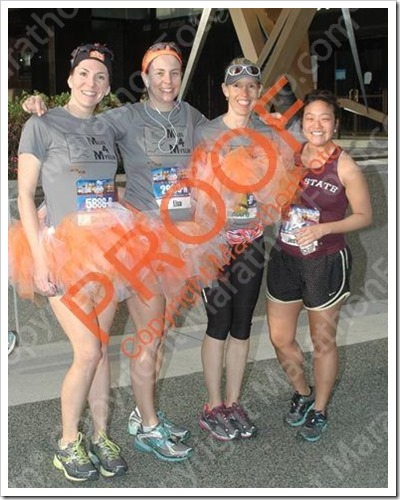 Before we knew it, we were off! Once we were about a mile into the race, I was plenty warm.  My goal for this race was to keep my heart rate in zone 2 as much as I could and have my average heart rate in the same zone.  I adjusted the screens on my Garmin 610 to show only my current heart rate and heart rate zone so that I wouldn't be tempted to ditch my plan.  As each mile passed, the average pace came up.  I was tempted a few times to pick up the pace, but reminded myself of my goal.  It is so hard for me not to be competitive with myself and just run.  It is especially hard when people are passing on all sides in a crowded, energy-filled race.
As the race went on, the wind picked up.  There were several hills on the course, though I don't typically think of Columbus as a hilly place.  Funny how different an area seems when you run it as opposed to driving it.  The elevation chart says it all…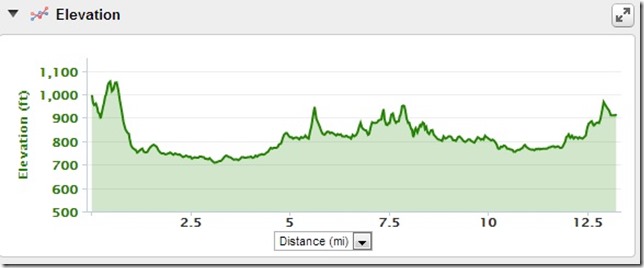 The wind was so strong at one point (7-8 miles in), that my visor blew off of my head and I had to turn around and go get it!
I really enjoyed this race – running through parts of town that have been redone and taking the time to really look around.  I didn't run with music, so I was able to hear everything – the chatter around me, the footsteps of thousands and last, but certainly not least, the cheers from all of the friends and family that came out to support their runners!
I finished this half marathon in…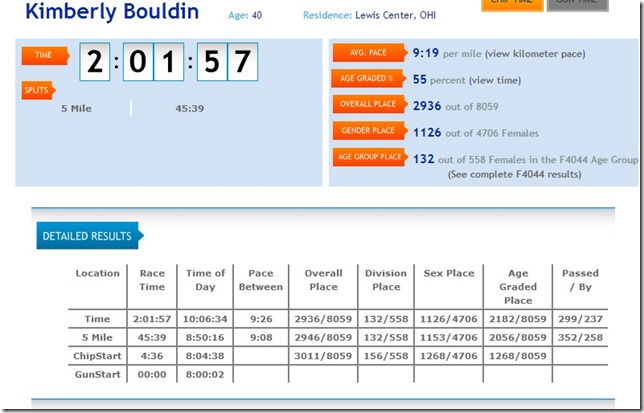 My average heart rate for the race was 143, which is the top of zone 2.  I am happy with that!
After completing the race we were funneled through a very slow moving, but secure area to get water, bananas and other non-gluten-free food.  I spotted an open coffee shop and ducked in to grab a large iced coffee to hopefully get ahead of the headache that was soon to come.  After meeting up with some MIT friends, we grabbed our celebratory glass of champagne, and as my friend Lisa said, "You have all of the food groups!"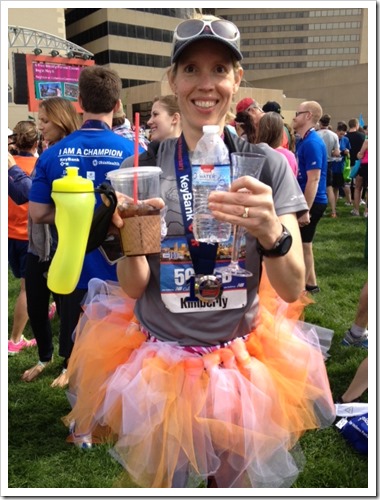 Gatorade, coffee, water and champagne!
I can't wait to run this race again next year! So, what's next?  My legs asked the same question!  A little down time – as a matter of fact I haven't run since the race!  I know, right?  Who am I?  I may head out in a bit for a short run.  No half marathons  on the schedule until late August, so a little relaxation is a must before the next round of training begins.
Oh, and for the record, I only had a small headache that was quickly relieved with Tylenol after the race.  I focused on hydrating like crazy 2-3 days before the race with VitaCoco coconut water and SmartWater.  I figured it couldn't hurt, right?