Man, I sure have missed chewy granola bars since starting the gluten-free diet.  They weren't something I ate regularly before starting the gluten-free diet, but you know how it goes, when someone tells you that you can have something, you want it even more!  I found Nature's Path Dark Chocolate Chip Chewy Granola Bars a few weeks back and then the Trail Mixer version the next trip to the health food store.  These bars are just what I have been looking for!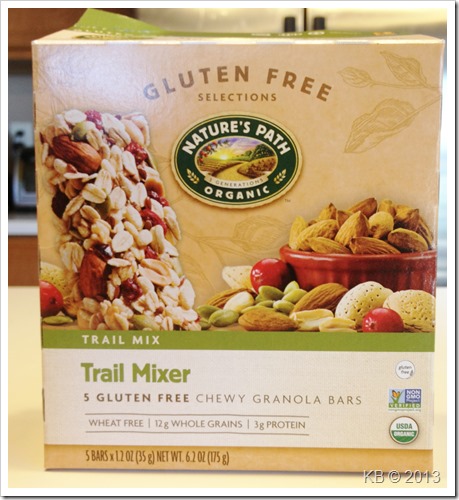 These bars are easily tossed in my purse or gym bag and hold up well to being sat on, squished, etc.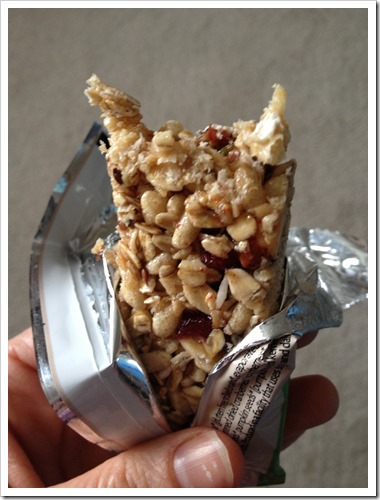 Ingredients:

Granola* (gluten free rolled oats*, evaporated cane juice*, sunflower oil*, rolled amaranth*, rolled quinoa*), tapioca syrup*, brown rice flour*, brown rice syrup*, sweetened dried cranberries* (cranberries*, evaporated cane juice*, sunflower oil*), invert cane syrup*, roasted almonds*, roasted peanuts*, dried coconut*, flax seeds*, pumpkin seeds* (pumpkin seed kernels*, salt), acacia gum*, sunflower oil*, sea salt, cinnamon*, molasses*.

*Organic. Contains peanuts and tree nuts. Produced in a facility that uses soy and dairy.
I quickly fell in love with these granola bars!  The texture compared to that I remember in my pre-gluten-free granola bars is spot on!  Each bar has 140 calories, 4 grams of fat, 3 grams of protein and 3 grams of fiber and is certified gluten-free.  The new Trail Mixer bars are a wonderful addition to the Nature's Path growing gluten-free product line.  Check out the store locator to see where to find the gluten-free products near you.
Do you have a favorite gluten-free granola bar?  Have you tried the Nature's Path Gluten-Free Granola Bars?