Here we are entering the third week of May.  Our weather has changed dramatically over the past week.  Last weekend for Mother's Day, Saturday was cold and raining, Sunday was windy and not very warm and I wore running tights and gloves for my Tuesday morning run.  After that chilly morning run, it got hot and humid and it's stayed that way.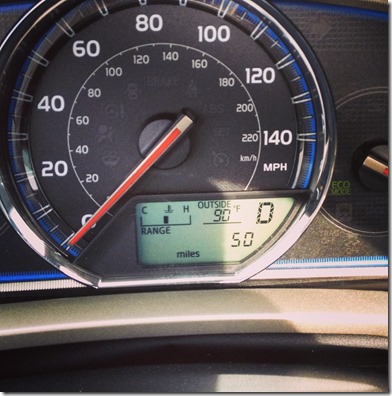 This was Wednesday.  When the weather gets hot like this I start thinking of cool drinks…ice cold gluten-free beer, white wine spritzers or frozen margaritas with salt on the rim.
---
Weekly Menu
Sunday – Grilled turkey and Swiss cheese sandwiches, baked fries and salad
Monday – Easy enchilada bake, corn and salad
Tuesday – Dinner time meetings, so leftovers or take-out
Wednesday – Grilled chicken, potato packets on the grill, steamed green beans and salad
Thursday – Breakfast for dinner and fruit salad
Friday – Make your own pizza and salad
Saturday – Bourbon chicken, brown rice, snow peas and salad
---
Weekly Recap
Review: Larabar ALT protein bars
Quite possibly my new favorite bagels…Kinnikinnick's Soft Bagels in Blueberry, Cinnamon Raisin and Plain
Jason's Deli offers full size Udi's Gluten-Free Bread
Celiac Disease Awareness and Pet Peeves
KIND Bars debut two new flavors
Have a great week!
Kim