When I was asked to write an endorsement for the brand new Crave Bakery Cookbook, I was flattered and excited!  I fell in love with the products from Crave Bakery back in 2010 and can't wait to get busy making some of the recipes in the new cookbook!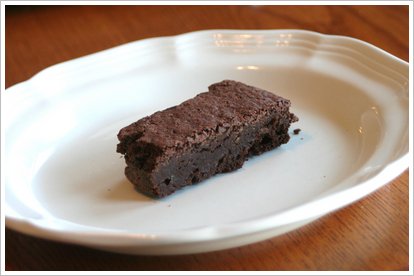 Crave Bakery Brownie
My endorsement: Following a gluten-free diet can be difficult, but Crave Bakery makes it a little bit easier by creating some childhood favorites that won't make you feel like you are settling.  Their brownies and cookies are sure to please even the pickiest palates. The brownies are dense and fudgy with no telltale sign of the product being gluten-free. 
More about the cookbook:
What's in the Book?

This book is a collection of over 60 Recipes all made in Crave Bakery for our line of grocery products or our decadent wedding and party cakes in the Bay Area since opening in 2003. This book includes 50 photos and step-by-step instructions for Cakes, Cupcakes, Frostings, Fillings, Brownies, Cookies, Tarts and Muffins.

A casual baker or a full-fledged bakery can easily reproduce these recipes. Because they were designed for efficient production, many of the recipes are simple enough for beginners. For bakeries that have been wanting to add gluten-free products to their line but don't have time to devote to all that experimentation- this book has done the work for you. These are recipes ready for production. They're precise and tested over years in Crave's own bakery.

Beyond recipes, this book also includes helpful information such as:

–       Recipes organized by difficulty

–       Clear allergen statements for each recipe

–       Recommended Baking Tools

–       Recommended Gluten Free Ingredients

–       Gluten Free Baking Tips

–       Decorating Tips

For you Kindle people, Kindle version is coming soon!

To read more about the new cookbook and endorsements from many other gluten-free voices, visit the Crave Bakery blog.
In honor of Celiac Awareness Month, Crave Bakery is giving a 40% discount through May 31, 2013. The book will be just $2.99 in iTunes.
Crave Bakery has generously offered to give 5 lucky winners each a free copy of the new cookbook!  How cool is that?  Simply follow the instructions in the Rafflecopter box below to enter!
*The free copies of the Crave Bakery cookbook are being provided free of charge to the 5 winners.  The thoughts and opinions shared in this post are mine and have not been influenced by anyone or anything.