It was just a little over a year ago that I first sampled Omision's Lager and Pale Ale.  Omission Brewing was the first brewer in US to use traditional ingredients, such as barley, in their gluten-free beer.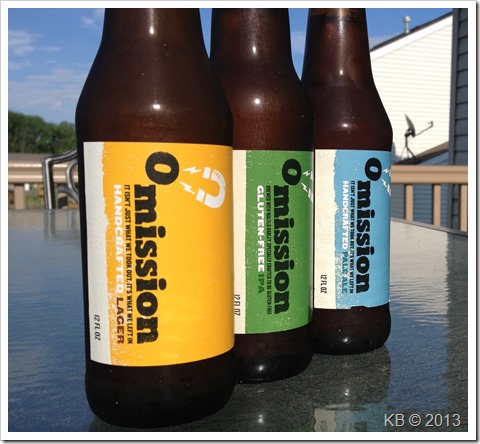 More about the Gluten-Free IPA:
"Omission IPA is the first authentic gluten-free IPA brewed with malted barley to hit the market," said Joe Casey, Widmer Brothers Brewmaster. "This IPA is brewed in the traditional Northwest IPA style, yet is specially crafted to be gluten-free. The beer uses a generous amount of Summit and Cascade hops giving it a beautiful citrus flavor and aroma."

"At Omission, we're constantly innovating, and exploring new opportunities to share our love of craft beer with anyone of legal drinking age, including those with gluten sensitivities," said Terry Michaelson, CEO, Craft Brew Alliance, and longtime celiac.  "Part of that is experimenting with different beer styles that meet our rigorous gluten-free standards while staying true to our commitment to high-quality craft brewing. Omission IPA hits the mark, and we can't wait to get it into the hands of our customers in Oregon this spring."

Gluten-free Omission IPA:

Omission IPA is a bright, hop forward Northwest Style IPA produced in the spirit of the original IPAs shipped from the UK to India in the late 1800s.  The heavy-handed use of Cascade and Summit hops give it notable pine, citrus, and grapefruit aromas and flavors. The bitterness is what you would expect of a NW IPA but this beer is balanced and smooth due to the perfect level of malt sweetness. The finish is crisp, clean, and refreshing – it's a true IPA lover's IPA.

About Omission IPA

Ingredients

Malts: Pale, Carmel 10°L

Hops: Cascade, Summit

Profile

IBU: 65

ABV: 6.7%


Omission IPA has a suggested retail price of $9.99 per six-pack and will be available in six-packs of 12-ounce bottles at the Widmer Brothers Gasthaus Pub in Portland, Ore., and at retailers, restaurants and bars throughout the state.
I had never tried an IPA or India Pale Ale before starting the gluten-free diet, so I didn't have anything to compare the new Omission IPA to.  The IPA had a great flavor, but was heavier than I like (don't read this as bad, I like a lighter beer).  The IPA would pair well with a hot, juicy burger straight off of the grill or a meat lover's gluten-free pizza. 
Each batch of Omission Beer is independently tested using the R5 competitive ELISA test to ensure that it contains less than 20ppm gluten.  The consumer can log onto the Omission website to check the batch results of the bottle they are drinking.  It is pretty cool and very reassuring. 
Do you have a favorite gluten-free beer?  Have you tried any of the Omission beers?