To whoever is doing the rain dance in Columbus, Ohio:  Please stop!  If the sun does peek through the clouds, it isn't for long. Yesterday it did manage to stay out for a few hours, though the forecast said rain, so it wasn't like we made plans to spend any time outside.  Last night we were treated to the mother of all thunderstorms which resulted in a barking dog at 3:00 AM and an extra body in bed with us.  Mother Nature tried to make amends this morning with this: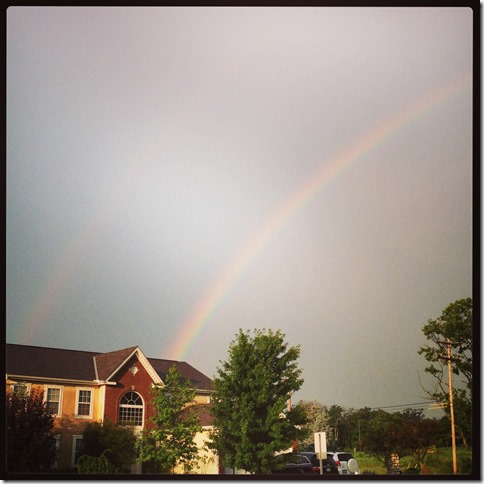 While it was gorgeous, I won't be fooled again.  Another week full of rain is on tap this week.  Grr! 
---
Weekly Menu
Monday – Burgers, Ore Ida Simply Country Style Fries and salad
Tuesday – Tostadas with refried beans & taco meat, corn and salad
Wednesday – Grilled chicken fettuccine Alfredo and salad
Thursday – Bourbon Chicken, brown rice and salad
Friday –Make your own pizza and salad
Saturday – Take-out or Breakfast for Dinner
---
Weekly Recap
Review: Edison Grainery Q Mac & Cheese <—Great comfort food!
Review: Donato's Take & Bake Pizza
Gluten-Free Dining at Buca di Beppo
Bring Glutino to your next BBQ
Did you know Chocolate Lucky Charms don't have any added gluten?
Have a great week!
Kim