Posana Café is an upscale casual, farm-to-table restaurant that also happens to be 100% gluten-free.  Dining in a restaurant that is completely gluten-free removes the cross-contamination worry and allows one to focus on the food. Just glancing at the menu has me wanting to plan a trip to Asheville, NC to dine at Posana Café.  If I leave now, I should be able to arrive in time for dinner.
More about Posana Café :
Executive chef and co-owner of Posana Café Peter Pollay opened Posana in 2009 as the first 100 percent gluten-free restaurant in the country, and it remains one of only a few today. One look at Posana's menu, and the phrase "gluten-free" never enters your mind. Posana's brunch menu boasts everything from scratch-made, gluten-free pastries like muffins and pancakes to fried chicken and gravy, while the dinner menu features additional gluten-free surprises from burgers on toasted buns to lobster mac and cheese.

Chef Pollay's inspiration for Posana came after his wife was diagnosed with Celiac disease. After he noticed a lack of safe dining options for her outside the home, Chef Pollay, an honors graduate from the Culinary Institute of America who has worked with several industry greats including Wolfgang Puck, wanted to fill the void in the marketplace. His wife's only request? That the food be so good the "gluten-free" element would go unnoticed.

Posana isn't just good for the body…it's good for the environment. Posana is a 3-Star Green Restaurant certified with the Green Restaurant Association, which fits perfectly with Asheville's designation as America's Greenest Dining Destination. As the president-elect of the Asheville Independent Restaurant Association, Posana's co-owner and executive chef Peter Pollay played a fundamental role in that initiative.
If Posana Café is a little to far for you to visit, consider making the Fried Chicken & Sausage Gravy for dinner instead.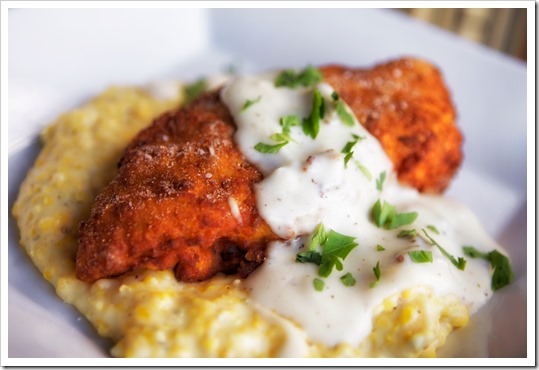 Posana's Fried Chicken with Sausage Gravy

Servings : 4

For flour mixture

1 cup cornstarch

1 cup white rice flour

½ cup corn flour

2 tablespoons smoked paprika

1 tablespoon onion powder

1 tablespoon garlic powder

1 tablespoon salt

1 tablespoon black pepper

Method:

1. Place all ingredients in a bowl and mix thoroughly

2. Set aside.

For gravy

½ pound breakfast sausage, raw

3 tablespoons butter, unsalted

¼ cup white rice flour

1 teaspoon potato starch

1 teaspoon cornstarch

3 cups whole milk

to taste salt

to taste black pepper

Method:

1. In a medium saucepan, place sausage and cook.

2. While sausage is cooking, break into smaller pieces with end of spoon.

3. Add butter and melt,

4. Add flour mixture and stir until smooth, when completely smooth

5. Add milk, reduce heat to medium,

6. Let mixture thicken, stirring occasionally

7. Season with salt and pepper

For fried chicken

4 ounces canola oil

4 each chicken breast boneless, skinless

4 ounces buttermilk

Method:

1. In a bowl, soak chicken breast in the buttermilk

2. Add oil to a cast iron skillet or sauté pan. Heat on medium high

3. When oil is hot, remove chicken from buttermilk, let excess drip off

4. Place chicken in the flour mixture to thoroughly coat

5. Gently place breaded chicken in pan

6. Cook until golden brown and turn to other side

7. When second side is golden brown, remove chicken and place on rack

8. If chicken breasts are thick, you will have to place in 375 degree oven for 7 minutes to finish cooking.

9. Serve chicken with ladle of sausage gravy.
Don't let the length of the recipe intimidate you, break it down into smaller steps and get ready to enjoy a decadent feast!
Have you been lucky enough to dine at Posana Café?  Is there a restaurant near you that is 100% gluten-free?