Columbus, Ohio is a great place to live.  Columbus is often a test market for new food and drink items and also happens to have a wonderfully diverse selection of restaurants that accommodate the gluten-free diner.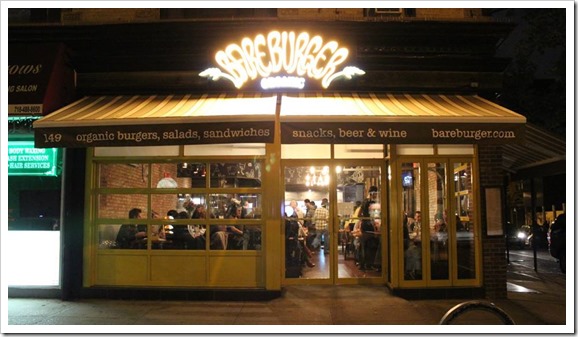 (source)
Bareburger will be joining that diverse selection later this year at 463 North High Street, across from the Columbus Convention Center.  More about Bareburger:
Bareburger restaurants offer mouth-watering organic burgers and sandwiches, fresh salads, delicious shakes and sharable snacks in environmentally sustainable, eco-friendly locations. Our belief is that organic food tastes better and is better for you, and that sourcing our ingredients locally benefits our communities. Our menu features a variety of meats, including traditional beef, chicken, turkey and lamb; exotic options such as elk, bison, ostrich and boar; and mushroom, veggie and black bean burgers for our vegetarian and vegan guests. Bareburger also offers a number of savory and sweet salads, organic beer and wine, and kid-friendly cubby meals for the littlest diners.

Does Bareburger offer gluten-free options?

Yes! All of our meats and poultry (except our panko and buttermilk chicken) are gluten-free, as are our salads, sauces, and French fries. We carry a gluten-free tapioca rice bun for our burgers, or they can be prepared in a gluten-free lettuce wrap. We also offer a number of ciders for customers looking for a gluten-free adult beverage with their meal, and a number of our desserts – including our flourless chocolate cake – are gluten-free, as well.
Here is a picture of that flourless chocolate cake with amarena cherry compote: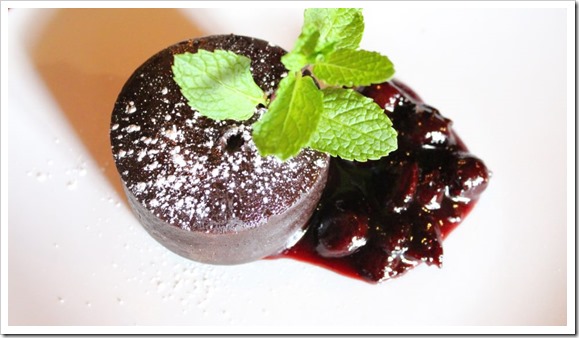 (source)
Sounds good, huh?  After checking out the menu, I can't wait for Bareburger to open later this year!  Some menu items that I need to add to my "must try" list include:
Bison burger, though I am curious about the elk, wild boar and ostrich
Poached pear salad
Pickled beet and goat cheese salad
Numerous shakes, including a Hot Honey Milkshake
Flourless chocolate cake
Just like any restaurant that isn't 100% gluten-free, there is a risk of cross-contamination.  The best way to minimize the risk of cross-contamination is to communicate with the restaurant staff, including the manager and chef, when you arrive. 
The new Columbus Bareburger will be one of the first locations outside of New York.  Have you eaten gluten-free at Bareburger?  Please share your experience with us if you have!