This weekend is sure to be an exciting one in Columbus as the Jazz & Rib Fest runs from Friday, July 19th through Sunday July 21st.  The Jazz & Rib Fest was born in 1979 as Music in the Air launched "Jazz in July", a series presented at various Columbus parks and facilities.  In 1980 Music in the Air presented the first Riverfront Jazz Festival which has evolved over the years to what is now known as the Jazz & Rib Fest.  The event is Columbus' largest free outdoor music festival and one of the nation's largest rib cook offs.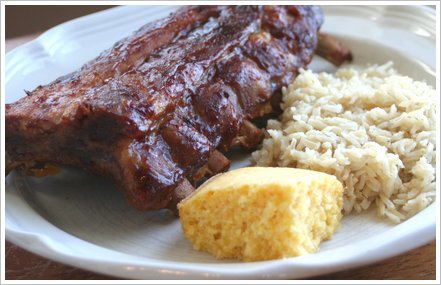 BBQ ribs straight from my grill
Food festivals can be intimidating for those following the gluten-free diet.  I have always just avoided them as I have no interest in suffering a gluten reaction in a festival setting, if you know what I mean.  A fellow gluten-free friend tipped me off to some exciting news for the Columbus gluten-free community…gluten-free options at the 2013 Columbus Jazz & Rib Fest. 
We reached out to the 2013 rib teams regarding gluten free items. The following teams have responded:

Armadillo's – ribs, pulled pork, beef brisket, chicken breast and all sauces
Bad Wolf BBQ – all meats and coleslaw
BBQ Masters – everything
Big Boned BBQ Co. – ribs, pork, brisket, chicken, beans, coleslaw and all sauces
Butches BBQ – all sauces and rubs
Desperado's BBQ Co. – all products except cornbread
Just North of Memphis – Sweet Kristy's sauce and dry rubbed ribs
Mojo's Rib Shack – ribs, pulled pork, beef brisket, chicken breast and all sauces
The Swhinery– pulled pork with no sauce

DISCLAIMER:

The Jazz & Rib Fest has undertaken considerable research from our rib teams to provide gluten free options for our attendees. While we try to ensure that these items are gluten free, Jazz & Rib Fest does not accept any responsibility whatsoever if such products contain traces of gluten.

(source)
I am not sure I am going to be able to attend, but I may try a little harder now that I know I can indulge in some goodies!  Have you had success eating gluten-free at fairs or festivals?  Do you research in advance?