Just a few days ago I received a fun mail surprise.  I knew something was on the way, as the Verizon Heath & Fitness Voices bloggers were alerted that a second device was on the way.  We were encouraged to guess what the new device may be.  Most of us agreed that it was most likely a tablet, but we weren't sure which one.
Fed Ex arrived at my house a little after 1:00 PM EST on Monday with my device.  I could barely contain my excitement while I opened the package to find…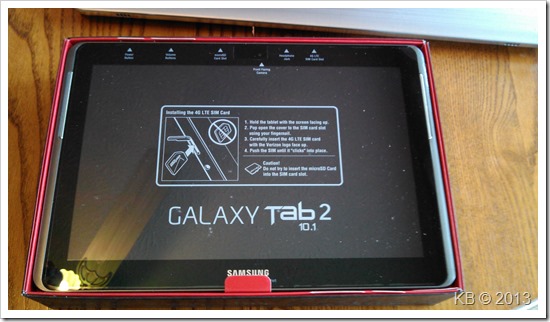 WOOHOO!  A brand new Samsung Galaxy Tab 2 10.1!
The first thing I did when I took my new tablet out of the box was installed my favorite apps so that I could access everything I needed on the tablet.  When I am at work, training clients, I usually play Pandora on my Droid Razr HD, so it will be nice to have another option.  We accept payments via PayPal, so having the tablet with 4G allows me to navigate the site a little easier without having to worry about a Wi Fi connection.
So far I am impressed and excited.  I have been playing around a bit and found an app that I have been having a lot of fun with at home.  The app is called "Peel" and allows me to control the TV and DVR from my tablet.  Hehe…the kids aren't aware that I can do this, so they are a little confused.  Fun times.
*Disclosure: I am participating in the Verizon Health and Fitness Voices program and have been provided with a wireless device, FitBit One, Verizon Gift Card, Samsung Galaxy 2 10.1 and six months of service in exchange for my honest opinions about the products.