Welcome to September!  I woke up this morning to much cooler temperatures and lower humidity.  This means that running is about to get easier.  That invisible, thick layer of air will disappear and it will no longer seem as if swimming and running have merged into the same sport.  Cooler temperatures also mean fall is just around the corner, which also means that all things pumpkin will be back in popular demand.  One of my favorite pumpkin recipes is this Pumpkin Raisin Scone (vegan in addition to gluten-free).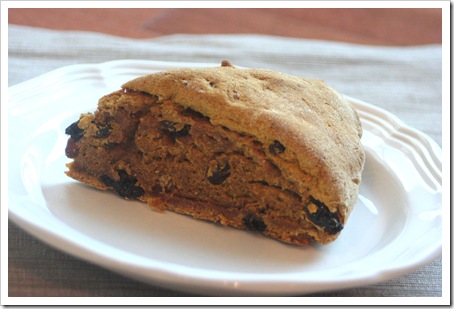 Looks like I need to get baking!
What do you look forward most in the fall?
---
Labor Day weekend = short week.  The plan:
Tuesday – Easy Enchilada Bake, corn and salad
Wednesday – Italian grilled chicken Alfredo, brown rice pasta and salad
Thursday – Breakfast for dinner (pancakes and fruit salad)
Friday – Make your own pizza and salad
Saturday – Take-out
---
Week in Review:
Ronzoni introduces gluten-free pasta
Katz introduces gluten-free bagels
Have a great week!
Kim