I am a firm believer in chocolate therapy.  There isn't much that chocolate can't fix, right?  The kids have been back-to-school for close to a month now, so I knew that a batch of brownies would be the perfect way to perk them up. It was right about the time that the kids started school that I got word of Tastefully Simple debuting a gluten-free line this fall.  The line includes a brownie mix, which is super-easy to prepare and certainly fit the "chocolate therapy" description.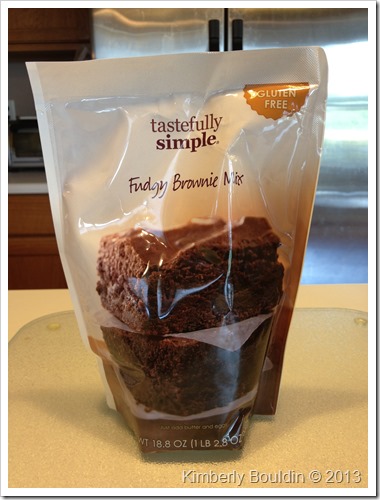 Simply add melted butter and eggs to the mix, stir, then bake for one of the best brownies you will ever taste.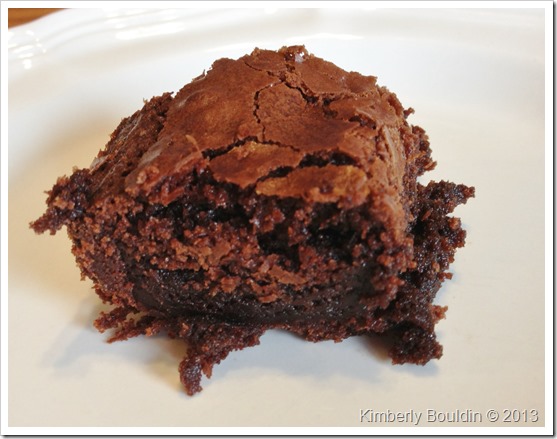 Do you see that fudgy goodness?  So.Good.  Both of the kids raved about the brownies…they sure didn't last long!
INGREDIENTS: Sugar, rice flour, cocoa (processed with alkali), potato
starch, tapioca flour, less than 2% of natural flavors, salt, xanthan gum,
silicon dioxide (anticaking).
The mix serves 16 people and is available through Tastefully Simple for $11.99/package.  According to the website the mix is only available for a limited time, through March 8, 2014.  I would love to see them remain a permanent addition to the line-up, so maybe if they are popular enough, they will! 
*The mix mentioned in this post was sent to me free of charge for review purposes.  The thoughts and opinions shared here are mine and have not been influenced by anyone or anything.