I love Tim Horton's coffee.  I love that the lattes and fun drinks on their menu are gluten-free, or were, up until now.  Keeping up with the other popular coffee shops, Tim Horton's added a trio of fall beverages to their line-up.  The new beverages, Pumpkin Pie Latte, Pumpkin Pie White Mocha and Pumpkin Pie White Hot Chocolate are NOT gluten-free per the gluten-free list.  Such a bummer!
Now the good news.  You can have a Gluten-Free Coconut Macaroon that is drizzled with chocolate to go alongside of your coffee, tea or selected beverage that is on the gluten-free list.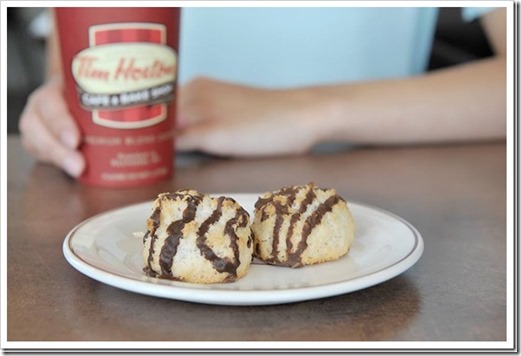 Have you tried the Gluten-Free Coconut Macaroons?  What is your favorite gluten-free Tim Horton's drink?