If you haven't noticed, the pumpkin craze is just a little crazier this year.  It seems that each and every restaurant is offering some pumpkin drink, baked good or dish…most unsafe for those with Celiac Disease.  Instead of sulking about not being able to enjoy these dishes, take control and make your own fall pumpkin dishes or baked goods at home. 
Beth Hillson (Gluten-Free Makeovers) was diagnosed with Celiac Disease in 1976.  She attended culinary school so that she could understand what questions to ask when dining out…a decision has led to a career making gluten-free food and serving the Celiac community.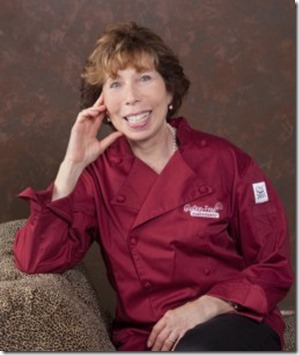 (source)
In celebration of Celiac Awareness Month (yes…we just celebrated in May, too), Glutino, together with Beth Hillson, have shared this amazing pumpkin recipe below.  I promise you won't feel like you are missing out on anything once you take your first bite of this dish.
Brown Rice Penne with Roasted Pumpkin, Caramelized Onions, Spinach and Goat Cheese

By Beth Hillson, author, Gluten-Free Makeovers

Serves 6

This recipe is inspired by the array of squash and pumpkin that fills the produce aisle in my local market this time of year, a display that's reminiscent of a watercolor painting with splashes of vibrant orange, creamy yellow and deep green.  Besides versatility (think roasted, pureed, made into soups or pies), squash is also full of nutrients and fiber, low in calories and very filling.  The biggest challenge is deciding which gourd to use.  This time, I tried sugar pumpkins.  If you are not familiar with these (also known as pie pumpkins), be sure to make the acquaintance.  Unlike the big jack-o-lantern variety, the sweet, tender flesh is great for eating. Roasting brings the flavors up a notch or two, perfect for this flavorful dish.   Adding pasta, spinach and goat cheese makes this as hearty main meal, too.

Roasted Pumpkin

1 small sugar pumpkin (about 1 ½ pounds), peeled, seeded, and cut into ½ -inch cubes (about 4 cups)

2 tablespoons olive oil

3 cloves garlic, crushed

1 teaspoon sugar

½ teaspoon chipotle chili powder, optional

Coarse salt and ground pepper

Preheat oven to 425 degrees F. Line a large baking sheet with aluminum foil.  In a large bowl, toss the pumpkin with the remaining ingredients.  Spread over the baking sheet and bake 25 to 30 minutes or until pumpkin is soft and slightly browned.  Set aside. 

To Make the Pasta

8 ounces Glutino Brown Rice Penne Pasta

2 tablespoons olive oil

5 ounces baby spinach

1 large onion, cut into thin wedges and cut in half through the length

¼ teaspoon salt

½ teaspoon dried thyme

1 ½ cups gluten-free chicken or vegetable broth

Roasted Pumpkin (above)

3 ounces fresh goat cheese, crumbled

Coarse salt and ground pepper

(1) In a large pot of boiling salted water, cook pasta until al dente (about 7 minutes).   Drain pasta, rinse under cold water to prevent it from sticking.  Set aside.

(2) In a large saucepan, heat 1 tablespoon of oil and sauté the spinach just until wilted.  Remove to serving tray and wipe out the saucepan with a paper towel.

(3) Add remaining 1 tablespoon oil and add the onion and salt.  Sauté until onion takes on color (about 10 minutes).  Add thyme and broth and simmer 3 minutes.  Add the spinach and the roasted pumpkin and simmer for 1 minute.  Add the penne and bring just to a simmer.  Remove from heat and crumble in the goat cheese and adjust seasonings.  Serve warm.

Note: Sugar pumpkins are members of the gourd family.  Choose smooth, deep-orange pumpkins that are heavy for their size, without cracks or soft spots. For peeling, cut off the top and bottom ends, then use a vegetable peeler or paring knife to remove the skin. For tougher skin, make a few more passes with the peeler.
Bon Appetit!