It is almost that time of year again.  The weather is getting colder and the holiday decorations are starting to make their appearances in stores.  Halloween is a short 12 days away, so there is no better time to start planning your Thanksgiving meal. 
Jules Gluten Free has a special deal through Wednesday, October 23, 2013 offering her famous Thanksgiving eBook for free!  The e-Book has been updated for 2013 and contains 29 gluten-free, dairy-free recipes for Thanksgiving meals.  More about the e-Book:
Thousands of people have turned to Jules to help them make their Thanksgiving celebrations their best ever. Whether you're hosting guests, or are attending someone else's affair, Jules will reduce your stress and increase your enjoyment.
Jules' updated and expanded 60-page Gluten-Free Thanksgiving e-Book has 4 pages of holiday tips, a 6-week planning timeline, a page of bread-baking tips and more than 20 delicious, gluten-free recipes that will please both gluten-free and gluten-full eaters alike.
It's not too early to start planning! Grab your copy of Jules' Gluten-Free Thanksgiving e-Book today!

Recipes include:

Traditional Stuffing
Corn Bread Stuffing
Turkey & Gravy
Buttermilk Biscuits
Apple Pie
Pumpkin Pie
Pumpkin Cheesecake
And many more…
Jules is an invaluable person in the gluten-free community and a wonderful all-around person. If you aren't familiar with Jules, take a few moments to get to know her.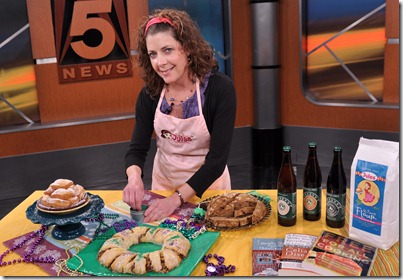 To take advantage of this amazing deal, visit the Jules Gluten Free Deal of the Day page and scroll all the way to the bottom.