Thanksgiving is right around the corner, so now is the time to start thinking about your meal plan.  Will you make the same dishes you do every year or will you try something new?  For the most part I find that it is fairly simple to make all parts of our Thanksgiving dinner gluten-free, with the exception of the stuffing, rolls and pies.  In the past I have used gluten-free cornbread in my stuffing, but this year I have something even better up my sleeve….Rudi's Gluten-Free Stuffing!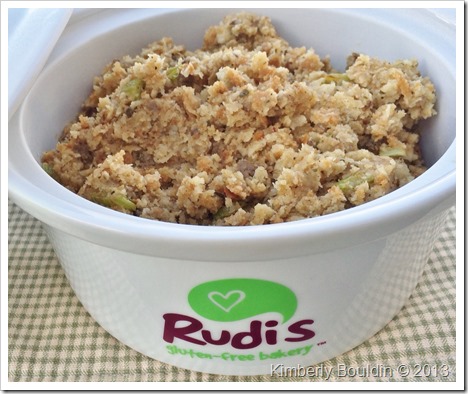 More about the stuffing:
Rudi's Gluten-Free Stuffing is an artisan inspired gluten-free stuffing that is perfect to bring to any holiday table for the whole family, gluten-free or not. Made from the bestselling Rudi's Gluten-Free Multigrain & Original breads and blended with a perfect amount of savory spices, it is a perfect match to any holiday meal.  The stuffing can be prepared in about 5 minutes and is dairy, soy and, of course, gluten-free.  Unlike other Rudi's Gluten-Free products, our gluten free stuffing is a limited time only program available while supplies last for 2013 holiday season.
The stuffing can be prepared in 5 minutes, as the package says, but I did things a little different.  I used Rudi's Gluten-Free Stuffing in my stuffing recipe.  This recipe is the one my mom has been making since I was a little kid, so it means a lot to me that I can make it gluten-free.
Savory Sausage Stuffing

1 package Rudi's Gluten-Free Savory Herb Stuffing

2 cups gluten-free chicken broth

1 stick (1/2 cup) butter

½ cup chopped celery

½ cup chopped onion

1 teaspoon poultry seasoning

8 oz. mild sausage, crumbled & cooked

1. Preheat oven to 350 degrees.

2. Melt butter and cook onion and celery over medium heat until translucent. Stir in poultry seasoning. Mix well. Stir in cooked sausage crumbles.

3. Heat chicken broth to boiling, remove from heat and stir in stuffing mix and sausage, celery and onion mix. Cover and let sit for 5 minutes.

4. Transfer to oven-safe dish, cover and bake for 30 minutes*.

5. Enjoy!

*Stuffing can be stuffed into a turkey as opposed to baking alone in a dish.
Rudi's Gluten-Free Stuffing can be found in Costco and natural food grocers nationwide!  Remember, this is a limited-run product, so don't wait to get yours!  Rudi's Gluten-Free has offered to give one lucky reader a stuffing package worth $90 (pictured below)!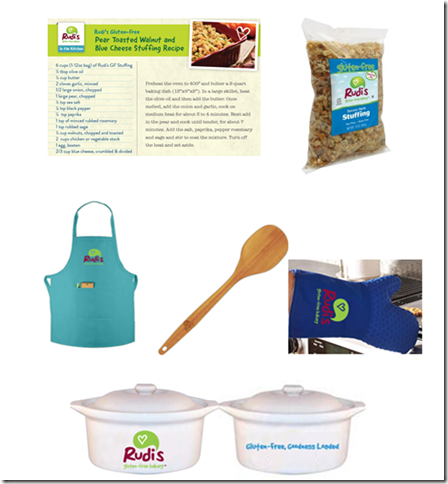 All you have to do to enter is follow the instructions in the Rafflecopter box below.  Comments must be made on this blog post in order for your entry to count.
a Rafflecopter giveaway

In addition to the giveaway on my blog, Rudi's Gluten-Free is hosting a giveaway of their own on their Facebook page.  Head over and check it out!
*The package mentioned in this blog post were sent to me free of charge.  The thoughts and opinions shared here are mine and have not been influenced by anyone or anything.