Refueling on-the-go is a way of life these days.  In a perfect world we would be able prepare a meal to refuel after every hard workout, but we all know the world is far from perfect.  The next best thing is a bar you can eat on-the-go that is packed full of the important nutrients your body needs.  PR Bars are a tasty, easy way to get those nutrients.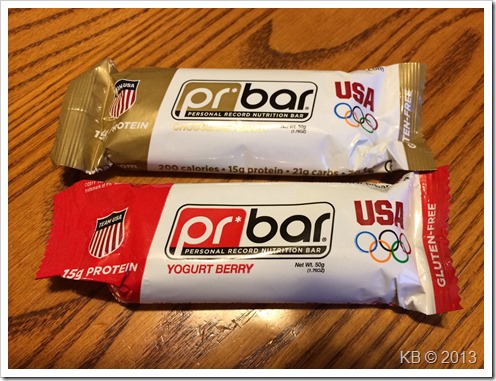 More about PR Bars:
•Provide endurance (optimal energy)
•Perfect ratio of protein, carbs and fat
•Stabilizes blood sugars
•Excellent taste
•Eight different flavors
•Gluten-free
•The official bar of Team USA

PR Bar is the Official Performance Nutrition Bar Licensee of the U.S. Olympic and Paralympic Team. PR Bars are an all-natural, gluten-free product formulated to sustain energy. Each bar has the perfect ratio of carbohydrates, protein and fat which optimizes performance by controlling blood sugars and using body fat for fuel. Whether you are training for your first Olympic Games or training for your first 5k, let PR Bar help fuel your dreams!
The eight different flavors of PR Bar are:
Yogurt Berry
Chocolate Peanut
Chocolate Mint
Iced Brownie
Peanut Butter Granola
Granola Oatmeal Raisin
Apple Pie
Double Chocolate
I had the opportunity to taste the Yogurt Berry and Chocolate Peanut PR Bars and really liked them both.  One of the best things about PR Bars is they don't contain any sugar alcohols!  They taste awesome and have a great texture, too!  The bars do a great job refueling me after my workouts and keeping me full until I can get a full meal. 
PR Bar has generously offered to give Gluten-Free is Life readers a discount on their orders placed on or before November 30, 2013.  Simply visit the website and enter code: GLUTENFREEISLIFE to receive 15% off of your order. 
*PR Bar provided a free sample of their product for this post. My participation is voluntary and my opinions, as always, are my own.